Dance Marbella

share this page with a friend

Dance Marbella is a professional dance school offering private and group classes for children from 3 years and older on the Costa del Sol.  Conveniently located in the lower level of Centro Plaza in Puerto Banus at the former Princess Studio location.
This Costa del Sol dance studio is a part of World Dance Sport Federation and offers young and old a chance to dance Latin and Ballroom style as well as improve flexibility, coordination and posture while learning about the incredible world of dance!  
Dance Marbella teaches a multitude of dance styles such as: Samba, Cha cha cha, Tango, Waltz, Rumba, Viennese Waltz, Pasodoble, Jive, Quickstep, Foxtrot, Ballet, Hip-Hop, Modern Dance, and Zumba. Students also have the opportunity to compete in championships!

Promotion: come as a couple and receive 1 month free!
About the Dance Studio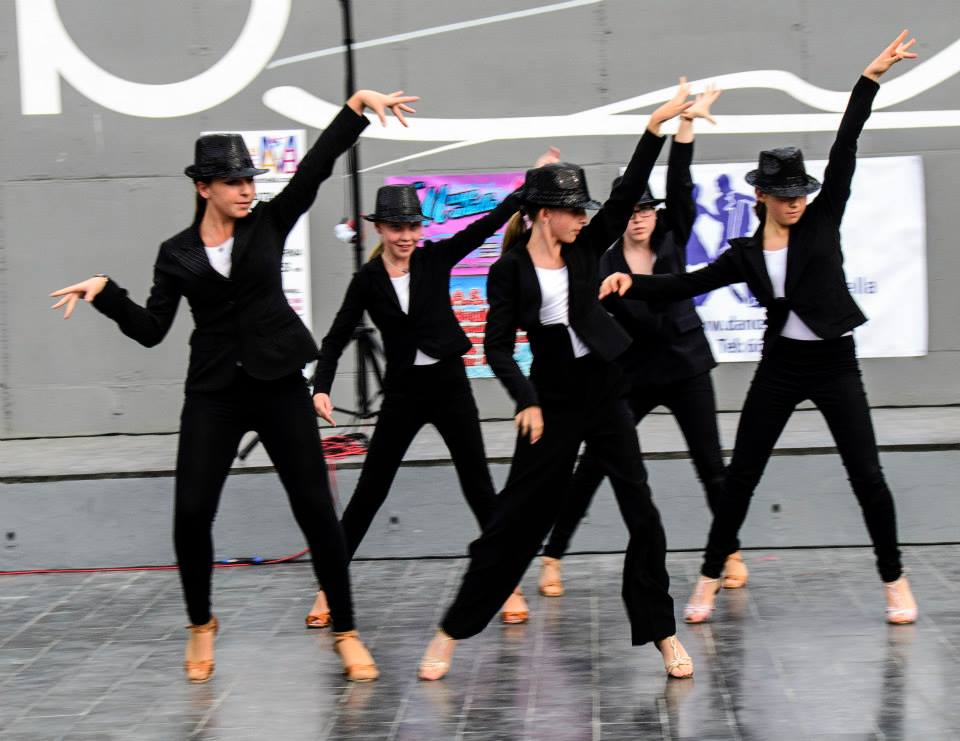 Come see this new concept in dance classes for kids and adults.  This Marbella dance academy is a perfect place to dance. A place that is more than a dance studio. Somewhere we can dance as much as we want. Be creative, laugh, work, relax and have fun. This is a place where anyone is welcome, and everyone is accepted. A place we could call home.
You will find some of the best Marbella kids dance classes in the area at Dance Marbella, taught by Nadia Stepochkina, who started dancing at age of 7 in her native country, Russia.  Nadia studied International Latin and Standard dances and was fortunate to be trained by some of the world's masters.
Born and raised in Moscow, Nadia has a very diverse range of knowledge and insight into many different styles of dance including the Latin dances, Jazz and Smooth Ballroom dancing. Her love for Latin and Ballroom, both music and dance, is very much present in her high energy and informative classes. Nadia speaks English, Russian and Spanish fluently. In addition to teaching group classes, Nadia is available for private lessons.
Class prices - 
No membership, just pay & play!  
ADULT CLASSES:

Fat Attack/Cardio Toning – with Joyce - Pay each time you come @ 10€ a class.  
Latin & Ballroom (for adults) - 100€ payable in advance for one month's classes, or 17€ per class, 150€ payable in advance for one month ( three times a week)
ZUMBA - 

Drop in is €12, 10 classes is €100.

Salsa - 

6 weeks (per person) is €60. 

Bachata - 6 weeks (per person) is €60. 

CHILDREN'S CLASSES  AGES 3 - 18   BOYS AND GIRLS

Latin & Ballroom 
– 85€ twice a week per month, 
125€  (3 times a week) or 14€ per dance class. Payable in advance 
Stretching – 6€ (30 min)
Baby class - 10€ ( 45 min)
DANCE MARBELLA Class Descriptions:
| | |
| --- | --- |
| Latin & Ballroom Learn how to Samba, Cha-cha-cha, Waltz, Tango and many others dances like on the TV shows "Dancing With The Stars" & "Strictly Come Dancing." Improve flexibility, coordination & posture while learning these ballroom & Latin favourites. Opportunity to compete in championships  | ZUMBA A total workout, combining all elements of fitness – cardio, muscle conditioning, balance and flexibility, boosted energy and a serious dose of awesome each time you leave class.  |
| BIKINI BODY WORKOUT: Burn calories then firm & tone all those flabby bits!    | BODY SCULPT AND FAT ATTACK!: Attack the fat with a fat blasting combination of cardio & toning work for a lean & sculpted body. Options given for each set of exercises so you can work at the level that's right for you |
| SALSA: Salsa dancing is a great dancing skill to learn and a great way to socialize and meet new people. Our class is full of FUN, you learn a lot in this friendly environment. It will improve your posture and co-ordination, as well as your flexibility. | BACHATA: It is a beautiful and sensual dance. Unlike Salsa, there are less patterns but a beautiful combination of body isolation and body waves. You will be able to learn how to control your body. You flexibility and coordination will improve. Come and join us to learn this beautiful dance and in a fun and friendly environment. Stretching  Improves flexibility, reduces the intensity of the pain or even eliminates muscle pain, gives you amazing  relaxation |
Nadia's passion is dancing and teaching dance. Her philosophy is to make dancing enjoyable for her students so that they approach learning to dance with great confidence and joy.  Nadia speaks English, Spanish and Russian, which helps her to connect easily with anyone!
Whether you are a beginner, a competitive Ballroom or Latin dancer, a little kid or an adult, Nadia is excited to share her knowledge and love of dance with you! - "I feel blessed having been guided by the best to achieve all the success and create all this magic in my life. Now it is my turn to give back and help others achieve their dreams."
Dance Marbella location and contact information
COMMENTS:
PUERTAS FAMILY (COMPETITION STUDENT) 
DIANA NILSSON - SHAFIKOVA:
We are so pleased to have Nadia as a teacher ! thanks to her my daughter started to dance , enjoying ebery class, went to several competitions and won some of them ! unfortunately our family is moving to another Country and we want to say thank you to this school and the nice techer for her time and efford to make our children better!"
NATALIA:
This school is quite different from everything i saw around, in Marbella area, they give opportunity for children to try different dance styles ( not only Hip Hp or ballet as everywhere...) - my children were doing Jazz, Samba, Rumba, Waltz, Street Dance, Funky, Hip Hop, Jive, Cha-cha-cha, Lady´s style, Burlesque, Pasodouble etc. And all this came give just one teacher - Nadia Stepochkina. Me, as a mom of 2 girls  - feeling very proud that they are coming to Dance Marbella, as i see a great results in a very short time."

ROBERT:
Every half a year Dance Marbella prepares the big show for more or less 1 hour where all the pupils are participating , showing what they have managed during 4-6 months. it s really impressive ! great job ! nice ideas! and very different styles ! always proffessional ! i am happy my daughter goes there."

IVAN & CARLOS:
"MUCHAS EMOTIONES!"
Ayer fue un dia con muchas emociones, porque si tu mujer comparte tu misma afición, que es el Baile, esta genial... Pero si tu hijo/a te dice que quiere competir en Baile Deportivo como nosotros, eso no tiene calificativo. Ayer fue su primera clase y como diríamos los Andaluces: Estoy que me salgo der pellejo!!!!!!(September 2014)

 RELHA FAMILY: (PORTUGAL)
JOÃO RELHA : "EXCITED TO WORK WITH YOU"

I really enjoyed to meeting you and getting to know you. I enjoyed your way to do things and the way you teach dance. I think you are a great dance teacher and I was excited to work you. (September 2014)
DUGDALE FAMILY (MARBELLA) 
CHRISTINE: "GREAT CLASS & TEACHER"
Thank you for helping Monica overcome her shyness today! She loved it! Great class & great teacher! See you again on Monday! (September 2013)

BOLCHAKOVA FAMILY (MARBELLA)
ANNA: "PROFESSIONAL TEACHER"
Thank you, dear Nadia, the class is spectacular! Chantal loves it and wishes to go to class everyday! At last we have a professional teacher in Marbella! (September 2013)