Costa Women: Business Networking "Women on the Frontline"
by Ali Meehan
(Malaga)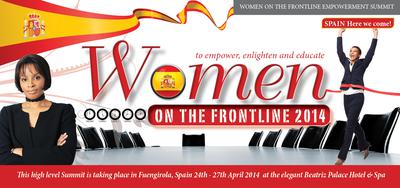 Women on the Frontline
As part of the seminar for "Women on the Frontline" we have been invited to attend a free networking event at Hotel Beatrix Palace Hotel & Spa in Fuengirola on 24th April from 7.30 pm.


The host will be Claudine Reid MBE - Claudine has for two decades empowered women to pursue their passions and develop enterprising idea's helping women to cancel excuses and break down barriers.
Visit the below link for more information about the Summit which runs from Thursday April 24, 2014 at 9:00 AM BST -to- Sunday April 27, 2014 at 9:00 PM BST
http://myemail.constantcontact.com/Women-on-the-Frontline-2014.html?soid=1102502724591&aid=rPddUdy1xqw
Women non-members are very welcome to come and join us.