Costa Women Business Networking: The Power of Profile
by Ali Meehan
(Malaga)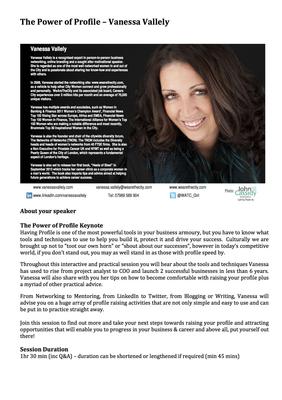 Power of Profile information
Our quarterly Business Networking event will be with Vanessa Vallely - Founder of the Networking site - wearethecity.com Vanessa Vallely is a recognized expert in person-to-person business networking, online branding and a sought after motivational speaker. She is regarded as one of the most well networked women in and out of the City of London and is passionate about sharing her know-how and experiences with others.


WeAreTheCity experiences over 3 million hits per month with over 70,000 unique visitors.
Time: October 24, 2013 from 7:30pm to 11pm
Location: Restaurante - La Veranda Verde
Street: Royal Tennis Club Marbella
City/Town: El Rosario
Website or Map: http://www.royaltennisclub.es
Women non-members welcome (there is no fee to attend the event)
Vanessa's keynote speech will be on the topic of "The Power of Profile" -
Having Profile is one of the most powerful tools in your business armoury, but you have to know what tools and techniques to use to help you build it, protect it and drive your success. Culturally we are brought up not to "toot our own horn" or "shout about our successes", however in today's competitive world, if you don't stand out, you may as well stand in as those with profile speed by.
Throughout this interactive and practical session you will hear about the tools and techniques Vanessa has used to rise from project analyst to COO and launch 2 successful businesses in less than 6 years. Vanessa will also share with you her tips on how to become comfortable with raising your profile plus a myriad of other practical advice.
From Networking to Mentoring, from LinkedIn to Twitter, from Blogging or Writing, Vanessa will advise you on a huge array of profile raising activities that are not only simple and easy to use and can be put in to practice straight away.
Join this session to find out more and take your next steps towards raising your profile and attracting opportunities that will enable you to progress in your business & career and above all, put yourself out there!