CONCERT of SACRED and OPERATIC ARIAS
by Morris Bishop
(San Pedro)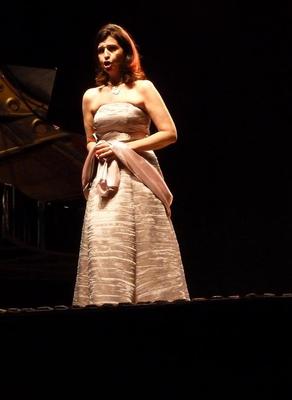 Maria Rosa Perez Diaz
If you missed the inaugural Concert given by the newlyed CANTO LIRICO, don't worry, there are more to come!


It was nearly a full house at Teatro del Ingenio on 22 March in 2013 in San Pedro de Alcantara for the performance given by 4 very talented artists. Maria Rosa Perez Diaz, mezzo soprano - Julie Anne Hunter, Soprano – Fernando Luigi Marquez, tenor – Maria del Carmen Perez Blanco, pianist.
The first part of the pre-Easter evening was, appropriately enough, a series of eight sacred arias, which were warmly received by the appreciative audience. After a short interval, seven well known works from the creme de creme of operatic composers – Mozart – Puccini – Bizet and Verdi were performed.
Starting with one of the greatest love duets by Mozart', "La ci darem la mano" (there we will entwine our hands) From Don Giovanni. The soprano and tenor, convincingly played the parts of Zerlina (Fiancee to Masetto) and Giovanni, (the licentious seducer) and I enjoyed this part equally as much from Fernando, as from the more normal bass baritone rendering. The other Mozart duet was Sull aria from the marriage of Figaro.
This was a beautiful example of harmonic perfection by the soprano and the mezzo, that was to be repeated in the "Las Flores Duet from Delibe's Lakme – yes, you know the one, BA used it in their commercial. From Puccini's Gianni Schicchi comes the soprano aria "O mio babbino caro" (Oh my beloved father) sung by Lauretto, the daughter of Gianni. The love that exuded from Julie Anne interpretation gave me goose bumps!
Next came the "Habanera" from Bizet's Carmen. The title role is that of a fiery gipsy who seduces a soldier, (Jose) by taunting him with this love song, because of this, Jose loses his sweetheart and, to make maters worse, fights with his Lieutenant over Carmen and
has to desert the military.
Later in the Opera he discovers Carmen with a toreador who is another of her conquests, and in a fit of rage, he kills her.
Finally the two ladies join Fernando to indulge in the amous "Brindis" drinking song from Verdi's Traviata.
Grateful thanks are due to the Ayuntamiento de Marbella and Fay & co for their generous patronage of this event.
The four performers were delighted with the reception they received and are now reso
lved to give regular performances in the future.
If you would like to be kept informed about events that CANTO LIRICO will be organizing please send your email address to mobidata@gmail.com