Collegium Musicum Costa del Sol 2014 Christmas Concert
by Morris Bishop
(San Pedro de Alcantara)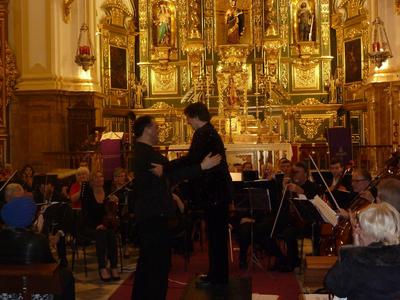 Job well done
Yet again Annemarie Philipps, the Musical Director of the international Choir & Orchestra Collegium Musicum, succeeded in enrapturing her audience with a programme given by over a hundred voices and musicians such that they would not let her go without encores.


The second of two performances was on 16th December in the Church of the Encarnacion in the old town of Marbella to 'a-bursting at the seams' audience, whose anticipation was not to be unfulfilled.
The evening began with 6 movements from J S Bach's Christmas Oratorio given by the Choir and Orchestra, followed by a wonderful rendering of Max Bruch's 1st Violin Concerto by the renowned soloist, Geoffrey Silver. I must have listened to this piece 100's of times, but this virtuoso interpretation ranks amongst the best.
Anton Diabelli's Te-Deum and Joseph Schnabel's Natum Vidimus demonstrated the amount of hard work and dedication all of the performers have made to master these pieces, whilst a second work by Schnabel gave an opportunity for the male choristers to shine.
Finally, a piece premiered in New York in 1990 with the aptly named Magnificat by John Rutter - for it was truly magnificent, not only in composition, but in its rendition as well.
The encore was a special arrangement of "Non Nobis Domine" from the film music of "Henry the Fifth" then the concert concluded with AP encouraging everyone to join in with the traditional singing in English, Spanish & German of Silent Night.
What a joyous evening of music making it a privileged to witness!
To Annemarie, and her very talented team,
Thank you, Thank you, Thank you.
Morris Bishop