CHOWKA a new experience
by Morris Bishop
(San Pedro)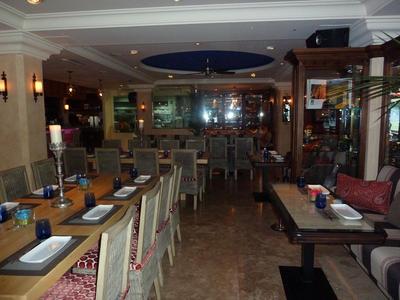 Chowka's dinning room
RESTAURANT CHOWKA CLOSED IN FALL 2014.


About a month ago, Chowka opened its doors to an unsuspecting public as to what would replace the Polo Club on the 'Golden Mile' in Marbella.
The pre opening adverts promised a new experience in Indian dining, with 'tapas' dishes for sharing. We were a party of six eagerly looking forward to a gastronomic adventure into a new type of Indian cuisine.
But lets start with dining room, beautifully appointed, very comfortable , spacious, very pleasant decor with little displays dotted around, nicely lit, slightly spoilt by background music which was a tad to loud. (and in my opinion unnecessary).
Altogether, a very inviting room to be in.
The first part of the menu consisted of 14 tasting size dishes for sharing, from which, with the help of Petra, our waitress, we each chose one.
With 'skill' we divided our goodies into six pieces for all to try. What is then apparent is that the single mouthful you are devouring, merely served as a confusion to the previous helping. Yes, you appreciate the individual flavors, textures, and aromas fleetingly, but for this to work allow for a minimum of a half portion each.
Having said that, they were all delicious (I think!!) As an alternative, there are soups and salad, and I counted seven veggie starters.
There are eight curry based main's to chose from, including one suitable for vegetarians.
Carrying on with the sharing theme, we limited our selection to a Fish Curry, and double
Portions of Coastal Lamb Curry and South Indian Prawn Curry.
To accompany this, lots of Basmati Rice, a Spinach-Corn-Beetroot dish, and a trio of Naan Breads. Delicious & delightful are just two of the adjectives I could use to describe our universal appreciation of all the food served. Incidentally, they will adjust the 'heat' of the curry to your taste.
I cant remember ever having a memorable desert in an Indian restaurant, until now. Of the four we choose, the simple sounding Mango Rice pudding (Mango Kheer) was the perfect foil to the curries we had just eaten. Both the Tandoori Pineapple with Coconut ice cream, and the Crème Brule, were well received, and the depth of flavor achieved in the Strawberries with Cumin and Lime Granita was exceptional.
The service was exemplary, with meaningful guidance, to, What for us was an adventure.
Was it successful? Everyone enjoyed the experience, and agreed that the cuisine was amongst the best of Indian dining, but, from my perspective I am not sure that the starters format worked. Perhaps a second visit may make a difference to my judgment, and I will update these scribblings should this occur.
The vital Stats.
Chowka can be found on Bulevard Principe Alfonso Von Hohenlohe on the round about by the BP petrol station. On the Golden Mile in Marbella.
Reservations phone +34 952900380 or email contact@chowka-marbella.com.
To see their menu on line visit their web site www.chowka-marbella.com
There is parking on the slip road, the entrance to which must be taken some 100 meters before the round about when approaching from
Puerto Banus
The restaurant seats about 80 inside and 40 on the terrace and is open for lunch and dinner every day
Bishlin marks out of 5
Ambience 4½
Food 5
Menu 4½
Service 5
Value 3½
Price guide 40-45 euro