ChocsBox - Costa del Sol
by Ken Walker
(Malaga)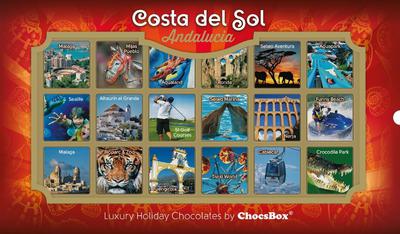 A unique gift or souvenir
ChocsBox - 18 Luxury Dark Chocolates (70%) with discounts on Theme Parks and Golf, with oodles of Tourist Information about the Costa del Sol.


Each chocolate square shows a different Costa del Sol Tourism Centre, Theme Park or Tourist Attraction on the wrapper (plus one Golfer) and also has a QR code and a website address on the back.
As you enjoy these delicious chocolates use your Smartphone, Webcam or Tablet to scan the QR codes or the addresses on the back of each wrapper. Visit web-pages where you will find Tourist Information for each town and can buy discounted tickets for Golf Courses, Theme Parks and Tourist Attractions.
Even better than that - the discounts are PER PERSON!
All the discounts are available all-year round and updated frequently.
For example; book a round of Golf for 4 players at the San Roque Old Course between November, 2013 and March 15th, 2014 you will get discounts of €27 per person = € 108 total discount.
A round for 4 golfers at the same course during October 2013 would offer discounts of up to €41 per player = €164!
Or if a family of 2 adults and 2 children visit a couple of Theme Parks they will enjoy discounts totalling far more than the price of ChocsBox.
For example, 2 adults and 2 children who visit Selwo Aventura and have lunch they can get a discount of €44.20 when tickets are booked online.
Discover the best days out, the best beaches, Car-hire rates, Hotels, Golf Courses, Theme Parks and Attractions, Restaurants - and much, much more!
Ideal for planning your holiday day-trips before you leave home, when you are already on holiday in Spain, or for taking home as a unique souvenir.