Paint & Fun ceramic cafe
share this page with a friend
UNFORTUNATELY PAINT & FUN CERAMIC CAFE CLOSED ITS DOORS IN 2009.

Paint & Fun Ceramic Cafe is a unique workshop located in San Pedro de Alcantara where you can paint your own pottery. You were there? Please send us your evaluation and grade. We would love to hear from your family!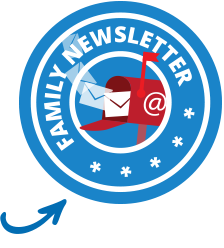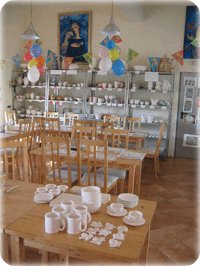 UNFORTUNATELY PAINT & FUN CERAMIC CAFE CLOSED ITS DOORS IN 2009.

Paint & Fun Ceramic Cafe offers everything you need for your kids to create their special work of art. You can choose from over 140 different shapes of pottery bisque: mugs, platters, bowls, figurines and more. As well as from over 50 different colours of paint. Beading classes are also available on request for all young and old with a specialist coaching the class. Stamps, stencils, sponges, idea books, a little coaching and a lot of encoura-gement are there for you. Ask about their Mums & Baby/Toddlers sessions.

Location: Calle Garcia Morato, 8, in the area called El Ingenio (just across the Mc Donald's of San Pedro de Alcantara).
Hours: Thursday - Saturday 4:30pm - 8:00pm, Closed the rest of the week. Open until December 23.
Tel: +34 952 78 38 84 or +34 620 273 794
Website: www.paintandfun.com

Summer Camp: Ages 5-15; Monday - Friday 10:30am - 1:30pm; 20euro per day; Minimum 1 week booking. Children learn handicraft, beading, ceramic painting, clay modeling, pottery, and papier mache.

MarbellaFamilyFun grade: 8.9
---
Son's evaluation: I like this place because you can make a lot of different objects like plates, bowls, cups, mugs, decorations, and much more. I go here to make plates or mugs for my family on birthdays. You can also eat a sandwich and a milkshake after you have finished. (February 2009) Grade: 10
---
Daughter's evaluation: I really like this paint and fun because it is a good place to come to if you like being creative and like painting. At paint and fun you can paint mugs, plates, decorations, bowls, etc. If you don't know what to draw on the object you can either look at some of the ones the staff have done or you can ask for one of these books that they have that are full of little things some of the things are difficult and some are easy. After you finished and maybe you are waiting for other family members or maybe not, you can order these delicious milkshake and sandwiches. (July 2009) Grade: 10
---
Mom's evaluation:Paint & Fun Ceramic Cafe is a great way to spend some time indoors and get creative. My daughter loved this place from the start, but my son was very skeptical the first time he went calling painting and ceramics "girly stuff". However, to my surprise he totally got into the whole creative process when I said he had to make something for his grandpa's birthday. We spent 3 hours painting and the kids begged to continue to stay and paint more things. Since this first experience we've been to the Ceramic Cafe many times.

The staff is very friendly and helpful to give tips and new ideas. I find that every time we go the kids' work gets better and better. With time they get the hang of it and find new techniques. If you have babies or little ones you should definitely paint their handprint or footprint on a plate or tile as a keepsake that'll last a lifetime.

My first experience to the Ceramic Cafe was for a birthday party for a friend of mine. Like my son, I was a bit skeptical and didn't think I'd enjoy it. And like my son, several hours later came out with a pair of egg cups that I proudly gifted to my children. There's something very calming about painting ceramics and I see this effect not only in me, but my children as well. You would be surprised at how some kids can sit so still for so long.

My daughter has been to several birthday parties at the ceramic cafe and have enjoyed them as well as some Halloween and other holiday parties they hold. They also have beading parties for groups as small as 4 adults and/or kids. They have a special coach who comes in for such occasions as long as people book in advance. Although I've never taken one of these classes, they seem to be fun and could be great for anyone young and old, girls or boys.
Another thing worth mentioning is that they have a sunny terrace where you can work on nice warm weather days. I've seen birthday parties out on the there and there is plenty of room for a large group of kids. There is shade as well in case you need to cover. The building itself has a very cool industrial studio feel with huge windows, so that there is always plenty of natural light to work with. Each piece you make varies in price and they offer everything from simple tiles from 1,50 euros for a small tile to 65 euros for a complete tea set. There is a studio fee of 5 euros per person per day for unlimited time. The studio fee is 3 euros for children under 12 years old. (February 2009) Grade: 9.0
---
Dad's evaluation: Not really my favourite pastime, but the kids seem to enjoy it... Great place to have the kids paint something special for the birthday of relatives. (February 2009) Grade: 6.5
---
Mack's family (San Pedro) grade: 8.0

---
Girl (10 yr old): I love going here when the weather is not so great and either painting or beading and making great gifts and keepsakes. (March 2009) Grade: 8.0
---
Girl (6 yr old): It's my favourite place to go and paint and make stuff, plus they do great milkshakes. (March 2009) Grade: 8.0
---
Mom's: A good place when the weather is a little off. Doesn't have to be expensive if you choose your pieces well. They also run great summer courses and other special events plus they cater for birthday parties. (March 2009) Grade: 8.0
---
Melania's family (Marbella) grade: 9.5
---
Girl (11 yr old): It's really good to spend time with your family and to have some fun. (February 2009) Grade: 9.5
---
Maria's family (Marbella) grade: 7.0
---
Girl (10 yr old): You can celebrate your birthday there and you can paint different things. (February 2009) Grade: 7.0

---
Back to top of Paint & Fun ceramic cafe
Return to Marbella Indoor Activities
Apr 06, 19 08:07 AM

The Marbella Football Academy - a high-performance Football Camp in Marbella enabling kids from 4 to 16 years of age to develop and excel in football.

Mar 26, 19 02:11 PM

Just a quick tip if your needing a NIE Number in Marbella... I was very happy with my self, read all the websites about getting your own NIE Number in

Mar 26, 19 02:09 PM

I am an enthusiastic and experienced teacher. I taught Biology/Science/Maths in Ireland from 2005 and gained my PGCE in University College Dublin in 2012.