Car Transport Unique | Marbella
by Steve
(Malaga)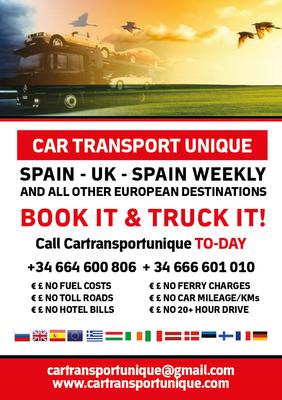 Car Transport Unique | Marbella
Car transport unique offers 2 UNIQUE options to transport your car, 4x4 or SUV. Both give you security, safety and customer service.


1. The tried and tested delivery service by utilising the "Multi load car transporter *.
Simply fill in the quote form below and we will contact you directly.
​ 2. The bespoke transport option. "Deliver my car by driver" **
If time and delivery is critical then option 2 allows you the flexibility and speed to get your vehicle delivered. Our professional drivers are on call now.
Urgent today ! We drive your car ! Last minute urgent delivery of your car!
Most have over 20 years of European driving experience,
Go to the next page tab above "Deliver my car by driver" ** to get more details. We deliver Europe wide.
How is it different from others here?:
Because we offer personal bespoke transportation options
What will visitors love about it?:
We deliver a professional service.
Address:
Calle Sol Villas Mijas Costa
Email:
cartransportunique@gmail.com
Telephone:
+34 664600806
Website:
www.cartransportunique.com
Facebook: https://m.facebook.com/Car-Transport-Unique-190805157680788/