Camel Expeditions
by Soufiane
(Morocco)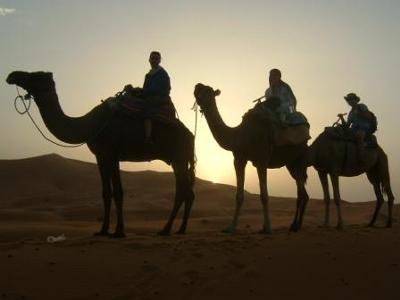 Camel Trekking in Morocco
Camel Expeditions is a locally owned Moroccan organisation with extensive experience in arranging adventure tours. Being a locally owned organisation allows us to deliver the best value tours with extra options that may not be available from other tour operators.


All our guides are born and raised in Morocco and have strong connections with the local communities in the regions we travel through. We are fluent in English and French and always strive to deliver the best experience for customers.
Take advantage of one of our many Tour Packages or Specialized Tours which offer our BEST DEALS on trips that explore all regions of this beautiful country. Or let us organize your personalized trip and offer you a special rate on your trip to Morocco.
IMPERIAL CITIES, DESERT TOURS, DESERT EXPLORATION…, culture, and nature tours are the best value in Morocco.
All our friendly staff are at your disposal to help you discover the natural, cultural and human resources of our country Morocco. We want to keep a family spirit with you, better quality service and attractive prices.
We also opt for responsible tourism, fair in the right mood with great professionalism.
Our dream is always to be in contact with customers, because the world wide came over here in Morocco, so why he didn't seize the oppurtunity to get with others to add many things to modern tourism and offer a real & pure message about this country of mixed culture, civilisation & safe.