Bellaria Treats
by Amanda
(Marbella)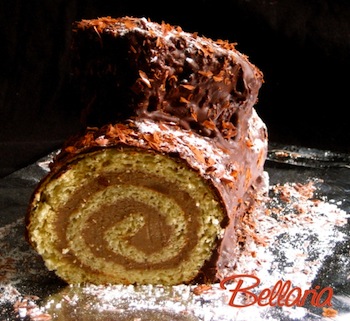 Bellaria Christmas log
Ok, so let's go back to basics: what's Christmas all about? Family, friends, good times, celebrating and sharing. Getting together, laughing, eating, reminiscing, sleeping, eating some more and sleeping some more. Seeing happy faces, ok, perhaps a few stressed ones, but by the end overall contentment. Love, wishes, and hope.

What we most love about this time of year is the part we play in making your holidays so special. Decorating your table with our delicious Christmas Logs, giving a loved one a box of treats, arriving at friends or family with dessert in hand, leaving Mince Pies out for Santa Clause. Christmas with Bellaria is so sweet!

And the best thing about it is you get to enjoy it together. That's the bit we love, knowing that with Bellaria you'll be sharing (even though it may be a little hard at times!)

So this Christmas, aside from our favourites, we've prepared some festive treats for you:

The Bellaria Christmas Log: a delicate Genoise sponge filled with chestnut, chocolate or dulce de leche and covered with chocolate. Elegant, spectacular and VERY special.

Lemon, Ginger and Cranberry Mince Pies: perfect for after lunch, afternoon tea, a gift box or leaving out for Santa and his reindeers. That's one way to ensure he'll be back!

Decorated Cupcakes: very festive, in a variety of flavours and great for little ones.

We're already taking orders so cross dessert off the list, it's taken care of! And if you weren't sure what to give that person who has it all.... SORTED!


---
About Bellaria...
Cakes so moist they melt in your mouth. Ingredients so fresh you could have grown them yourself. Service so impeccable it reinstates the words customer service and punctuality in the Spanish dictionary. Bellaria has taken what's good and made it BRILLIANT.
Bellaria was created after years of dedication to both baking and desserts. Having completed training in the United Kingdom and developed it within an American market, Bellaria has taken traditional favourites and combined them with that special something only they know about. Influenced by French patissiere Eric Lanlard, Michelin star Gordon Ramsay, boy next door Nigel Slater and their very own undefined creativity, their cakes, muffins and biscuits are nothing short of incredible.
Currently supplying an extensive range of restaurants between Marbella, Puerto Banus, Cancelada and Benahavis, Bellaria caters not only to the hospitality sector but privates and events too. With such reasonable prices, you'll find you won't even have to wait for that special occasion to try them. A simple 'just because' will do.
For further information contact
Bellaria
:
Tel: +34 695 153 139
Email: amanda@bellaria.es
Facebook
Website