Avenue Cafe Authentic Irish Restaurant
by Paula McCorry
(Marbella (Malaga))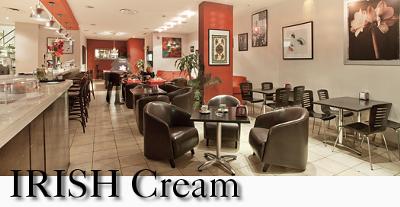 Avenue Café
Avenue Cafe, Ricardo Soriano 36, is a busy cafe on main street Marbella. Owned by Jim McCorry, it is steadily building up a wonderful reputation for Authentic Homemade Irish Cuisine.


The Cafe has a full Irish Breakfast with Irish bacon and sausages, selection of sandwiches, paninis, baked potato and daily snack menu. The Siesta specials include wonderful Tapas, Salad Bowls and daily Lunch Menu. The Avenue favourites to name but a few are Traditional Steak and Guinness Pie, Roast Chicken, bacon & leek mash with Irish Whiskey Cream sauce. Vegetarians are well catered for with Goats Cheese Tart and Thai Veg Curry. For desert try homemade Apple Crumble or Baileys Cheese Cake.
The owner Jim, and Irish chef Gareth both have family who are Coeliac so every effort is made to source gluten free products, including gluten free bread. The chef will try to cater to your requirements if you have food allergies.
Avenue Cafe offers excellent quality food at very reasonable prices. Check out our food reviews on facebook 'Avenue Cafe' marbella. Slán.
Opening times are 8am till 11pm Mon- Sat
BREAKFAST-LUNCH-DINNER Tel No:952776964
Also catering for Outdoor Events