Argentinian restaurant La Rosa Marbella
by La Rosa restaurant
(Guadalmina, San Pedro)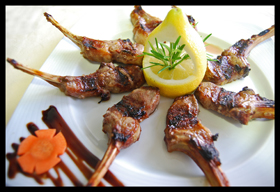 Argentinian restaurant La Rosa
The Argentinian restaurant La Rosa Marbella is located in the Commercial Center Gualdamina in San Pedro de Alcantara.


La Rosa is a restaurant with its own style, developed in a cosy setting with an eclectic atmosphere, where wood and soft lighting meet, with welcoming personal details.
With exterior tables, which allow for the classic sunny afternoons to roll on into the spring and summer evenings. Where we roast the meat to the required taste of each client, making the "cut" of each piece in the moment, guaranteeing the freshness and quality of each plate served.
We offer FLAVOURS AND AROMAS from the classic Argentinian Grill fused with the tastes of the Spanish.
Our kitchen brings these flavours, which together with the best cuts of prestigious Argentinian meats and a select wine cellar with produce from both countries, therefore making La Rosa a truly unique place to dine.
LUNCH TIME MENU
Available from Monday to Friday. An attractive option – ideal for business lunches or informal lunches.
EVENTS & GROUPS
La Rosa is the ideal venue for business lunches or dinners, private cocktail parties, small groups, celebrations or special events.
Regardless of the type of event, we have the perfect option for each one, with the guarantee of top quality service.
CONTACTS
Telephone: 952855769
Address: Centro Comercial Guadalmina III, Locales 4 and 12, San Pedro de Alcántara
Website: www.restaurantelarosa.com
Email: info@restaurantelarosa.com