All day music festival supporting "Keep Music Live" and Cudeca.
by Martyn Wood
(Fuengirola, Malaga)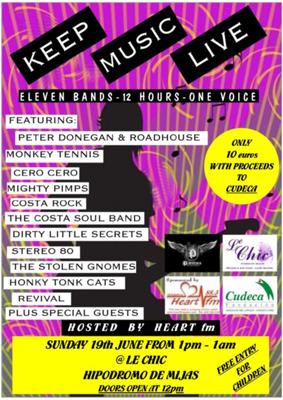 Attention all lovers of LIVE music!!!!!!!!!!!!!!!


For the first time on the Costa del Sol, on SUNDAY 19th June, an ALL DAY music festival in support of "Keep Music Live", with proceeds going to CUDECA. The festival is being held in "Le Chic", the 1000 m2 elevated terrace bar in the Mijas racecourse.
The aim of this first all-day music festival is to bring to the attention of town halls the importance of live music on the coast as a tourist attraction, as well as a cultural asset for locals and residents alike.
Many town halls are being pressured into stopping long-standing live music venues from having bands playing. Solo artists, duos and karaoke are as yet not affected, but could be soon if certain pressure groups have their way. This affects not only the many quality foreign bands but also Spanish bands of all kinds of music, even the sacred flamenco!
However the many ferias held along the coast are not affected by this recent spate of 'Anti live music' as was seen recently at the Fuengirola International Fair, when most of the 33 countries represented had live music every day. The best example of which was the American caseta that had a full 10 hours each day of live music!
Doors open at the hipódromo costa del sol, the Mijas racecourse, at 1pm and the entertainment starts straight away with the first of 11 bands playing LIVE during the day. Local radio DJ's from Heart FM, and Le Chic's own DJ Big M will keep the music going between bands until 1am. The bands are all playing for FREE showing their support for the cause and to help raise badly needed funds for Cudeca, the cancer care hospice. There will be children's entertainment during the day with a bouncy castle, "Splat the rat", coconut shy, face painting, balloon modelling and much more.
Food is always important when you are at an all day event and this year Le Chic introduces its new American food outlet called "Sun City Diner". Based on a traditional USA Diner, the food is great quality, tasty, fast and inexpensive.
By attending this festival not only will you and your family have a great day out, but you will be showing your support for continuing LIVE music on the Costa del Sol as well as helping Cudeca to continue with their "Special kind of care".
"Keep Music Live" 1st annual 'All-day' festival - In association with SPD Management, Le Chic, Heart FM, Partitura and the Mijas Town Hall.
Entrance ONLY 10 euros!!!!
...A great family day out! FREE parking for 1000 cars.
Bands appearing are;
1pm: Dirty Little Secrets
2pm: Cero Cero
3pm: Costa Rock
4pm: Stereo 80
5pm: Mighty Pimps
6pm: Monkey Tennis
7pm: Stolen Gnomes
8pm: Peter Donegan & Roadhouse
9.30pm: Honky Tonk Cats ( Rolling Stones Tribute )
11pm: Revival
12pm: Late Night Disco/Costa Soul Band (TBC)