1214you.com
by Charlotte Fisher
(Marbella, Spain)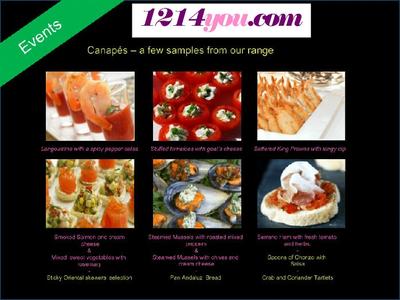 1214YOU is a Marbella based concierge service aiming to keep you happy and hassle free whether you're living in Marbella or on holiday. We work alongside like-minded professional people to give you the highest quality service available.


The company is run by Charlotte Fisher, who has been living on the Costa del Sol for more than 25 years. Discretion is of the upmost importance for all of our clients. We always deliver the highest quality products with the best service just for you.
Allow us to take care of you and your every need. Whatever you want, consider it done!
Most of our services are available to you 24 hours a day, 7 days a week. For any special services or needs not listed, please call us for whatever you want and we will get it! Nothing is too much trouble.
LAWYERS | PHOTOGRAPHERS | 24 HOUR DOCTORS | VETS | FOOD AND DRINK FOR HOME DELIVERY | SECURITY | DOG WALKING/ HANDLERS | HOUSE SITTER | HOUSE KEEPERS | MAID SERVICE | SUPERMARKET SHOPPING | BABY SITTERS | CATERING | VILLA RENTALS | CHAUFFEURS | TRANSLATORS | PRIVATE CHEFS | MOBILE BEAUTICIAN | TOURS OF ANDALUCIA | FACEBOOK PAGES | SOCIAL MEDIA | MOBILE PHONE PROGRAMMING |
24 HOUR PLUMBING | 24 HOUR ELECTRICAL | BATHROOMS | KITCHENS | APPLIANCES | FLAT-PACK ASSEMBLY | PAINTING | DECORATIVE PAINTING | DAMP PROOFING (WALLS AND TERRACES) | DAMP DETECTION (ULTRA SOUND) | REMOVALS | HANDYMAN WITH VAN | MECHANICS | PLANT RENTALS | GARDENING | WINDOW CLEANING | FLORISTS | MASTER CARPENTER (REFERENCES AVAILABLE) | AIR CONDITIONING REPAIRS | MAINTENANCE OF GARDENS AND SWIMMINGPOOLS | HOUSEHOLD CLEANING WHEN LEAVING OR ARRIVING | CAR ITV (MOT) |
Please contact us for prices on our services, or got the payment terms page. We charge per hour or day, depending on your needs.
For emergency 24 hour services, please call +34 674 577 044.
WWW.1214YOU.COM
WE offer free quotations on all professional services.