Villalinda Restaurant | Mijas Road
by Morris Bishop
(San Pedro de Alcantara)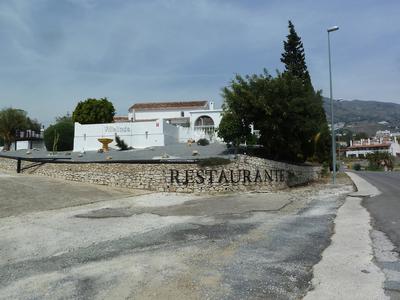 Villalinda Restaurant | Mijas Road
Started in 2005 this is number 6 in the group Aicorestaurants eating houses, opened in January of this year, it is situated in the foot hills of the Sierra de Mijas in what was restaurant Villa Varsover.


Now completely renovated to a high standard and comfortably furnished, there are 4 dining areas which I have coined: Wine room, Sun room, Side room and Patio. In total there are 54 covers inside, and at least 100 on the terrace. Around the quaint bar are a further 8 stools. Music was as it should be, in the background, and the place settings were simple but elegant.
My wife chose the traditional Sunday lunch menu of roast beef with all the trimmings, preceded by a liver and pistachio Pate with a mango and Cointreau relish, whilst I selected from the A' La Carte menu a starter of Smoked Duck's Egg with a Feta Cheese, Avocado, Beetroot Salad with deep fried orange peel shavings, and Venison with a berry jus served with Haggis Bon Bons, (that brought nothing to the dish) Baby new potatoes, and Spinach for a main. Both starters were nothing short of exceptional, not only in flavours but the presentations were as pretty as a picture.
At this stage of our meal we were delighted with both the place, and the food.
Then came our Mains - My Venison was not only very Tough but flavourless and the potatoes were shrivelled.
The Beef that my wife had was not from a roasted joint but was more like a steak seared on both sides and it too was without flavour and chewier than it should be, apart from the Carrots and Parsnips the rest of the vegetables were hard and dry.
This critique gives me no pleasure to write, but there were no mitigating circumstances as with barely half a dozen diners there at the time.
We mentioned our concerns to George the Maitra 'D to which he had no answer. Our waiter Recardo was helpful and quite jovial. A pleasant Apple cake dessert finished off what was otherwise a somewhat disappointing meal.
If I am ever convinced that they have got their act together on the cooking of the principle ingredients of the mains we might revisit.
The V.S.
Villalinda can be found on theA-387 Carretera de Mijas about 1 km. north of the AP7 motorway junction on the left, but for safety use the roundabout 80m. beyond the restaurant to double back. Adequate onsite parking.
They open for dinner and Sunday lunch. Monday is their day of rest. Average 3 course meal with wine 45€. Menu del dia and 3 course Sunday lunch menu both 25€. Wheel chair access from the rear of restaurant.
Reservations on 951104424 or on their website www.aicorestaurants.com
Bishlin Guide marks out of 5
Ambience:4.5
Food:3
Menu:4.5
Service:5
Value:4
O/A::4
Please mention to the restaurateur that the restaurant was recommended in the "MarbellaFamilyFun.com" Newsletter. To see even more reviews on the best restaurants in Marbella, check out The Bishlin Guide.