Two Christmas Concerts given by Collegium Musicum Costa del Sol
by Morris Bishop
(San Pedro de Alcantara)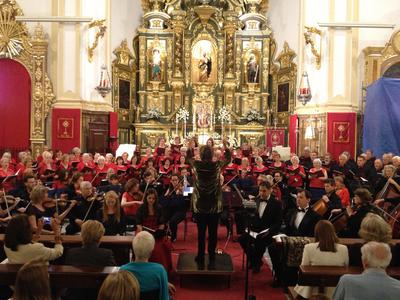 The Choir & Orchestra at their last concert
FOR UPDATED CONTENT ON THIS TOPIC,CLICK HERE.
The Choir and Orchestra, Collegium Musicum Costa del Sol, conducted by Annemarie Philipps, takes great pleasure in inviting all lovers of classical music to their annual Christmas concerts.
The first concert is on Sunday, December 15th 2013 in Benalmádena Costa, at 20.00 hrs in the Church of Our Lady of Carmen (near Bonanza Square).
The second concert is on Tuesday, December 17th at 21:00 hrs in the Church of the Encarnación (
Marbella Old Town
). Both concerts are free
The concerts show the very diverse characteristics of the national musical traditions of our European heritage across the centuries. Elegant and rather restrained French carols, more serious and straight-forward German carols, English & Irish carols, heavily influenced by the folk music of Britain, and down-to-earth Spanish carols full of life and colour. For the first time, we have included music from Argentina -Ariel Ramírez´ "El Nacimiento" and the Capriol Suite which is a set of dances in the Renaissance style composed in 1926 by the English composer Peter Warlock.
For more information check their website http://colmus.org, facebook or phone 952 475 840.