Tuk Tuk - Nueva Andalucia
by Morris Bishop
(San Pedro de Alcantara)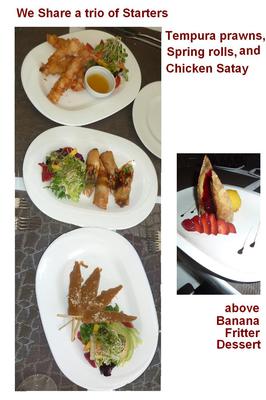 Starters and Dessert
Asian cuisine in all of its forms are very high on our favourite list, and having heard only good things about Tuk Tuk we decide 'Tuck in' to this one! It would be hard to miss the imposing façade to this eatery seating 50 inside and a further 70 al fresco covers, some of which are in the garden, that also has a sizeable waterfall at one end by a small lounge area. Comfortable chairs, nice table settings, linen tablecloth and serviettes, adequate smiling staff, first impressions were A1.


Beside the prawn, duck and chicken salads plus a couple of soups, starters consisted of many of the traditional Asia appetisers that we all know, from these we chose to share a trio of tempura prawns, spring rolls, and chicken satay, each coming with its matching salads. A selection of 3 curry dishes for our mains, of duck with coconut cream and mango chutney, chicken with Chinese cabbage, beef with vegetables, cashew nuts and spinach, each accompanied by a jasmine rice tower, and lastly grilled duck breast served with Oriental vegetables, orange sauce, and an Asian salad. We end by sharing banana fritters with strawberries. A very pleasant Sauvignon Blank went well with our meal.
As a suggestion I would like to see a sharing dish of 3 or 4 of the appetisers as a 'A Medley of Asia', similar to what we created (see photo).
It is almost impossible to make a 'modern' presentation with this cuisine but all the dishes looked appetising, and more importantly, they were all perfectly cooked, delicious to eat, and unlike some Asian restaurants, each was distinct in its individual flavour. It makes such a difference when the staff are smiling and helpful, this eatery must have schooled their waiters well, as was exemplified by Sonia and Diab, and indeed all the others that we saw were happy in their work as well!
PS. We enjoyed it so much we have made a reservation for next Saturday!
The VS.
Tuck Tuk is located at the easterly end of the strip of restaurants in Avda del Prado. Aloha Gardens, Nueva Andalucia. From the N340 turn north at Km174.2, go straight over three round abouts, and at the fourth turn right into Avda Del Prado, The restaurant is 1 km on the right. Street parking. Average 3 course with wine 35€ They open for lunch and dinner every day. They have a take away service.
Reservation on 951279188 or email info@tuktukmarbella.com
See their menu on www.tuktukmarbella.com
Bishlin marks out of 5,
Ambience:4.5
Food: 5
Service: 5
Menu: 4.5
Value:4.5
O/A 4.5
Please mention to the restaurateur that the restaurant was recommended in the "MarbellaFamilyFun.com" Newsletter. To see even more reviews on the best restaurants in Marbella, check out The Bishlin Guide.
DATE: May 2016