Toy Shop Marbella
by Marbella Family
(Marbella)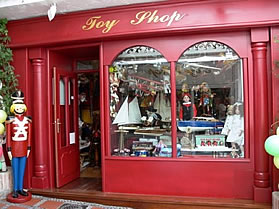 Toy shop in Marbella
Do you remember when toys were hand crafted, not manufactured? Do you remember when toys were meant to last a life time rather than breaking after a couple weeks? If you are looking for beautiful, well-made toys and collectibles for your loved ones, look no further than Toy Shop Marbella. Founded in Madrid and Barcelona in 1982. Now reappearing in the heart of the old town Marbella next to Orange Square. Toy Shop Marbella is truly magical and offers a great selection of quality toys from all over the world.


Their collection includes a vast array of high quality dolls, doll houses, limited edition teddy bears, puppets, marionettes, music boxes, authentic model cars, trains, boats and airplanes, action figures, rocking horses, flying balloons, beautiful costumes, dresses and outfits. Everything to suit the most discerning of clients.
Toy Shop Marbella
carries many hard to find exclusive gifts and collectables. Give them a call or stop by to see if they have the special item you've been looking for. Delivery available on request.
Beware: they have such a great selection, you might even find your inner child at
Toy Shop Marbella
Phone: +34 952 774 078
Mobile: +34 667 261 115
Email: cayetana@toyshopmarbella.com
Web: www.toyshopmarbella.com
Calle Nueva no. 5, 6 and 8
Casco Antiguo
29600 - Marbella
España