Tikitano Beach Restaurant April 2014
by Morris Bishop
(San Pedro de Alcantara)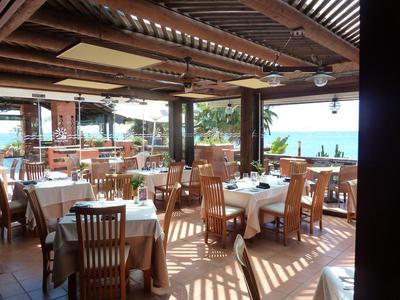 Part of the extensive dining room
I have been dining at Tikitano on and off ever since it was opened by Gary Wait some 10 years ago, It is an unsurpassed location, not only for the vista, but in the grandeur of the building itself.


It can seat about 190 within and a further 60 on the terrace. Separately, It has a comfortable lounge-bar and a central area for dancing and where many evenings of entertainment take place.
It is even more spectacular by night.
Scarlet has been in charge for about 6 years ably assisted by her staff, headed up by the maitra'd Mitch and chef Manuel
Our foursome lunched there with high expectation of the delights to come. A well ordered menu with sections such as Food To Share, Bar food & Snacks, Starters & Mains, and just recently introduced a Breakfast menu. Several sauces are listed as additions as well as as vegetables to add to the meal.
We all chose the chilli crab rolls for starters followed by Navarra Sausage casserole with prawns in a garlic sauce, Atlantic Tiger Prawns and Scallops in a Saffron and Citrus sauce, and a Fillet Steak. All, save myself, were happy with their meals, and although the steak was an excellent piece meat, cooked to the medium that I had ordered, it was lacking in flavour, to such an extent that on a blind tasting I would have been hard pressed know what I was eating. Although I tried to inject some bite to it with seasoning, this did nothing to bring out the Beef taste. It was accompanied by some dried up potato wedges which were inedible. OK I know that you have to look hard to find a well hung peace of Beef, but to cook it without proper seasoning did nothing to enhance my satisfaction, and I made this clear to Mitch.
Desserts were a sharing affair of Banoffee pie and a medley of cheeses. All the dishes were nicely presented
Vital Stats:
Tikitano opens for Breakfast, Lunch & Dinner Tuesday to Saturday
Sunday from Breakfast to Lunch. Monday is their day of rest.
Average 3 course with drinks 50€ but you could dine there for 35€
Bookings on 95279 8449 or info@tikitano.com
Web site www.tiitano.com
They are off the Ctr. De Cadiz at Km 164 approach from the East
on Urb Guadalmanse in Edf. Salinas, Estapona 29680
On entering the urbanization go straight over two round abouts
Bishlin marks out of 5
ambience 5
food 4
service 4
menu 4
value 3.5
O/A 4