The Kokomo saga – Atalaya Alta, January and February 2018 for lunch and Valentine's
by Morris Bishop
(San Pedro de Alcantara)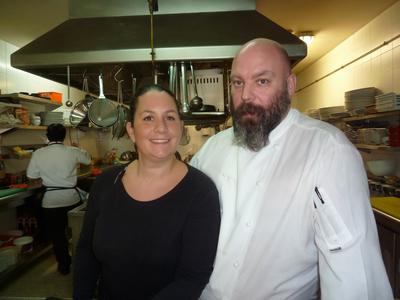 Sally and Simon
I have delayed writing this review because of a series of events that befell Sally and Simon, the owners of Kokomo..


Part1) for lunch From the menu of 15 mains which are divided into price groups of 5, 6, and 7€ plus the half dozen vegetables at 1€ a portion, we both chose Steak Pie with chips plus Peas and Carrots, and for desserts Sticky Toffee pudding and Cheesecake, also for 1€ each. the meal was well up to their usual combination of high value & tasteful food. Our pleasant lunch on Saturday 13th January was quite uneventful, but little did anyone know what was to happen within 24 hours.
Part 2) They had bookings for 150 diners for Sunday lunch and around midday a group of officials from the Estepona council accompanied by police descend on Kokomo and order them to clear the few early diners that were in the restaurant, giving them just 20 minutes to do so! Apparently, there had been a 'denunca' made by one of their neighbours about noise from the property and this led to the discovery that they did not have the correct licence for music. So imagine the problems that they were faced with – turn away 150 people about to arrive, Stop all the cooking and dispose of all the partly cooked food, send all the staff home, not knowing when they would be allowed to reopen, start the process to obtain the correct licence, which in the event would take over 3 weeks before they would open their doors again. I pass no judgement as to the rights and wrongs of these happenings From the Councils point of view they have rules, that quite rightly, must be abided by, and ignorance of these rules is no excuse. But as Simon said in 35 years in the catering trade, this has never happened to them before. As to the costs to them both in monetary terms and potentially in customer base, one hopes that they, like the Pheonix will rise from this disaster stronger in the knowledge that they have lived through it.
Part 3) We ring Sally and Simon regularly to see when they will open and eventually they get the green light, for those readers who did not know that Kokomo has reopened – book there NOW. So on Saturday 10th February we lunch once again at Kokomo's this time with their Cod and chips (superb as usual)
We want to support them so we decide to return for Valentines Night
Part4) We are a party of 4 and we immediately notice the effort they have put into this special event where there must have been 90 covers catered for. After the bread and dips to share we chose Oak Smoked Salmon with Prawns and Pickled Baby Cress and the Seared Tataki of Kobe Beef with POZU Dressing , Radish Salad and Wasabi Sorbet (what a clever way to serve the Wasabi) For Mains we had the Fillet of Beef with pan fried Spinach and Carrots and Celeriac Puree. We finish with Raspberry and White Chocolate Crème Brulee with home made Vanilla Ice Cream and a classic Chocolate Tart with a salt Caramel Ice Cream, Chantilly Cream and chocolate Shards. The whole meal was to a high standard – the service was immaculate and our companions from the emerald Isle were charming.
The VS. Kokomo can be found in Urbanisation Atalaya Alta, approach from the east on the A7, take the first exit after the Benhavis Turn off, and at the second junction turn right into Avenida Pernet, 26, Kokomo 1 k on the right. Street parking. Average 3 course dinner with wine 30€. Reservations on 951560905 or 685218054. Their day of rest is Monday, and they open for lunch and dinner Tuesday to Saturday, plus Sunday lunch, which has an option of 2 courses for 13.50€, or 3 for 16.50
Bishlin Guide marks out of 5
Ambience:4.5
Food:5
Menu:4.5
Service:5
Value:5
O/A:4.7
Please mention to the restaurateur that the restaurant was recommended in the "MarbellaFamilyFun.com" Newsletter. To see even more reviews on the best restaurants in Marbella, check out The Bishlin Guide.