The English Garden Calahonda
by Morris Bishop
(San Pedro de Alcantara)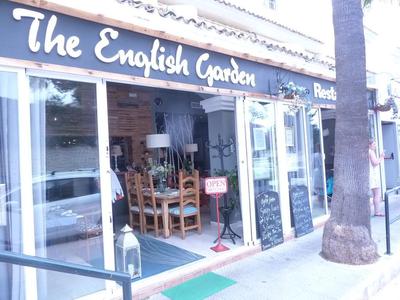 the approach to Tha English Garden
We kept 'meaning to', but never seem to 'get around to', dining at this one, but we keep hearing about the ambiance and the food to such an extent that we determined to go this weekend. The 40 seater restaurant's décor has been described as shabby-chic, and indeed there are not two tables that are the same, and barely a trio of chairs that are matching. Table settings are delightful, with linen napkins rolled into a metal rings, nice cutlery, crockery, and Chrystal, pleasant lighting, and bar area, but as to wall decoration,


the enormous wood archway to the bar area and the wood surround to the fireplace buttress made out of short planks I thought was a bit overpowering! Never the less it is a pleasant enough dining room.
Besides the interesting A La Carte, they have a Sunday lunch 3 course menu for 22.50€
From which I would like to have chosen the Pork Croquettes. Black pudding, Apple gel, and Red Peppers, but alas it was off! So for madam it was Steamed muscles in a white wine and garlic soup, and for me, the Goats cheese salad, with red onion, cherry tomatoes, mixed leaves with a mango and citrus dressing. All were nicely presented and tasty, but the Goat cheese, which should be the principle ingredient, was but a few crumbles that had to be searched for among the leaves! There are mains of Chicken Supreme, Pork Ribs, Salmon in a Prawn Bisque, Rack of Lamb, and Filet steak, but we both opted for the traditional Roast Beef roast with all the trimmings, and I must say the vegetable were al dente and yummy, the Yorkshire pud. very light, the beef however, although cooked as ordered, very generous in size, and good in texture, did not have sufficient flavour, I assume because of lack of precooking seasoning. Desserts were a Lemon Posset with a Lime Sable Biscuit and a Brownie with vanilla Ice Cream. and both were delicious.
The Owner Marisa was no not there so I couldn't glean much information save to say that she comes from a long line of restaurateurs and hails from Bilbao, but staff of John & Chris were attentive and helpful.
The V.S.
The English Garden is in the principle North south road in Sitio de Calahonda, Avda.
Espana. Street parking, open for diner Tuesday to Sunday and for Sunday lunch. They have a 22.50€ 'Early Bird 3 course menu until 19:30.
Bookings on 952930252 or on line www.theenglishgardenrestaurant.net
Bishlin marks out of 5,
Ambience:4
Food:4
Service: 4.5
Menu: 5
Value:4.5
O/A 4.5
Please mention to the restaurateur that the restaurant was recommended in the "MarbellaFamilyFun.com" Newsletter. To see even more reviews on the best restaurants in Marbella, check out The Bishlin Guide.
DATE: April 2016