The Beach House - Elviria
by Morris Bishop
(San Pedro de Alcantara)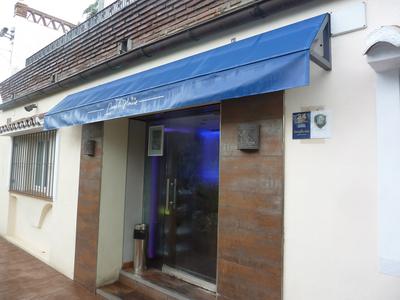 Beach House
It was a wild and rainy day and we battled our way through the storms to find a mud covered car park that made losing the motorcar that much more problematical, and then having to wade though, what had become a stream flowing across the pathway to the restaurant's entrance was not an auspicious start to our Sunday Lunch.


Beach house has 3 eating areas consisting of a dining room with about 40 covers, a covered terrace for 60 more, and a rather bleak looking deck area overlooking the Mediterranean. We were given a table at the end of the main room that was unfortunately adjacent to the area where all the cutlery is stored and at a time that they decided to transfer hundreds of sets to another place, suffice it to say that this went on for 12 to 15 minutes and the noise was most aggravating.
An adequate number of staff, some of which wouldn't be out of place in a beauty contest, were under the capable hands of Maitra 'D Nataly, and they coped well with what appeared to be a 'full house'. The special Sunday lunch menu was sufficient that it would be hard not to find something to please and it had an octet of starters, two of which were available as an entrée, with mains of 4 fishy dishes, a curry with options of vegetable, chicken, or prawns, a braised Lamb Shank dish, a vegetarian Mediterranean Spaghetti and my choice of a traditional roast Rib Eye Beef with all the trimmings. As a alternative they offer some 'light lunch bites' such as Tandoori King Prawns and a roast Beef and Cheddar Cheese Baguette, which, is what my wife had. Presentation, taste, and quantity were all good,
The VS. The Beach House is easy to find from the Elviria exit on the N340, just follow the blue signs. There is a car park (under normal conditions) they open for Breakfast and Lunch 7 days and for dinner Friday and Saturday. In addition to their A La Cart menu, they have a 20€ 2 course table dhote and with 3 courses for 25€. The menu prices are subject to a 10% IVA charge. Average 3 course meal with wine, tip and IVA 55€.
Reservations on 952839458 or info@thebeachhousemarbella.com
Bishlin Guide marks out of 5
Ambience: 4
Food:4.5
Menu4.5
Service:4.5
Value: 3
O/A::4
DATE: November 2016
Please mention to the restaurateur that the restaurant was recommended in the "MarbellaFamilyFun.com" Newsletter. To see even more reviews on the best restaurants in Marbella, check out The Bishlin Guide.