Tempora Restaurant
by Morris Bishop
(San Pedro de Alcantara)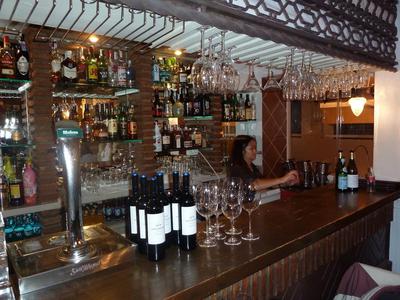 Tempora the Bar area
Tempora Restaurant, Old Town Marbella


Restaurant Review, December 2014
It was a very chilly evening which precluded us from eating outside, and they had a party of 12 inside, but, the owner, Anders, managed to squeeze us in against the bar. This filled Tempora's 14 covers inside, with a pair of hardy diners wrapped in blankets taking up 2 of the 20 seats outside.
From the menu of 9 starters, 4 fish and 4 meat mains, we chose grilled Scallop salad with Asparagus, Smoked Salmon, and a passion fruit dressing, and Steak Tartare marinated in Dijon mustard and with red onion, topped with Manchego cheese shavings, and for mains, Magret of Duck in a red fruit sauce with sautéed vegetables, and for me, what was to be a Sole, but because of informing Andres of a intolerance I have to olive oil when used in cooking, and my misunderstanding that he said that the chef could cook this meuniere, that I ended up with my only disappointment of the meal, to this day I don't know how it was cooked!
Every thing else was to a high standard of cuisine, beautifully served, and flavoursome.
The VS's
Tempora is open for dinners only and is in the passage way of Calle Tetuanin, Marbella Old Town.
Booking on 952857733 or to temporaresaurant@gmail.com.
The web site is www.tempoarestaurant.com
They have an 18€ early bird menu before 20:30, as well as specials of the day.
Their day of rest is Sunday.
Parking in Los Alameda or in Puerta del Mar just across the main road.
Bishlin Guide marks out of 5
Ambience 3.5
Menu 3.5
Food 4.5 (ignoring the hiccup)
Service 4
Value 4 o/a 3.5