Sunday Lunch at the Bel-Air Tennis Club
by Morris Bishop
(San Pedro de Alcantara)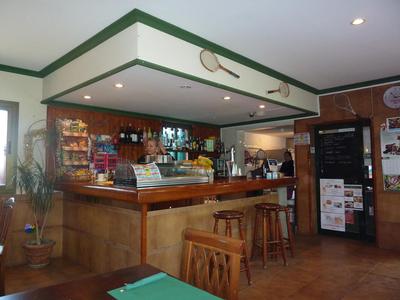 The bar at Bel-Air
When I saw a Cool Deal offer for Sunday roast in the restaurant at Bel-Air Tennis Club, it brought back memories of 12-15 years ago when last we ate there. Then, it was a pleasant enough dining room seating about 60.


Imagine my disappointment, when we were shown to The "Tie Break Bar" with an explanation that "we only use the restaurant for big occasions". This consisted of a bar with 4 stools and an eating area with about 16 covers, and a further 20 outside by the tennis courts.
So, having bought and printed the coupons, we decided to stay.
Though we had the choice of Chicken, Pork or Beef, we both opted for the latter, and were pleasantly surprised with both the quality and quantity of the meat, and the al'dente vegetables, as well as the roast, mashed, and croquet Potatoes. Altogether not a bad effort from the Pilipino chef.
The Hobson's choice for dessert was Apple crumble with ice cream, and I'm bound to say that it was very good.
By now we are warming to this unpretentious eatery and, In a conversation with Petra, the concessionaire, who hails from Czech Republic, that she has only been running the bar for 2 months, and hopes to do some refurbishment sometime next year.
The Vital Stats:
The club is in Calle del Tenis S/N, on Urbanization Bel-Air, which is about 5km. west of San Pedro.
Reservations on 952883221 or reception@belairtennis.com
Their website is www.belairtennis.com
They open for Breakfast, Lunch, and dinner, every day.
Average 3 course with wine 20€
Adequate parking on site
Meal of the day Wednesday, Friday, and Sunday
Bishlin marks out of 5 ( for the Bar)
Ambience 2 menu 2 food 3.5 service 3 value 3.5 overall 2.5