Sunday Lunch at Arroyo Hondo, Carretera de Casares, December 2017.
by Morris Bishop
(San Pedro de Alcantara)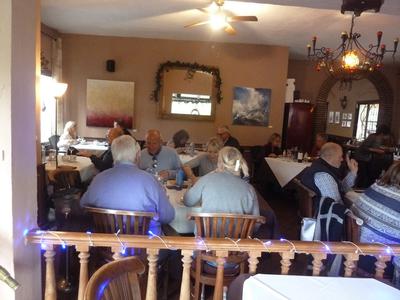 part of the dining room
The problem with writing restaurant reviews for a hobby is that you are continually seeking new experiences, and thus less likely to revisit a favoured eating house. Add to this that this one is about 30 minutes' drive away, and that it is a somewhat torturous journey up a mountainous road, then the motivation must be compelling. Arroyo Hondo is one of the few that tick all the boxes of good food, delightful hosts, homely environment, and tranquil surroundings. The Chef/Patron Christian Robinson-Burrell and his charming wife Noriko, the Maitra D' have a 15-year history of delivering excellence in all departments. The restaurant has changed little over the years, but I noticed that the pond on the terrace has been covered by a raised decking to extend their alfresco dining area to seat 50 that complement the 50 in the dining room proper.


In both the A la cart and the Sunday lunch menu are dishes that have more than a hint of Noriko's influence and it was one of these that I had for my starter, Tempura Soft Shell Crab with Wakame salad and a Ponzu dressing, others had Oven roasted Foie Gras with a Goats Cheese salad and pickled Apples (though they could not detect the Cheese!), and lastly a Bangkok style Prawns Pil-pil with Chilli, Shallot, and a Lemon grass infused oil. (nothing like the Spanish caldron of boiling oil version). We all chose the Char Grilled Forerib of Beef with accompaniment as our mains. Such was the portion size that we could only share a Tart Tatin with Vanilla Ice cream for out dessert. The depth of flavour that Chris achieves in all his dishes is just one of the reasons that people keep wanting to beat a path to his door, the well-schooled staff, consistency and (with the exception of too few Prawns in the PilPil) generous portions, are some of the others.
Always a pleasure to revisit this one – very much worth the Journey.
The V.S.
To find Arroyo Hondo (that means deep stream) from the roundabout at km 146 on the N340 turn North to Casares and the restaurant is at km 10. Coming from the Marbella direction there is a short cut from the Estapona poligono turn off from the A7 sign posted to Casares, but only if you enjoy twisty roads and beautiful countryside. I will try to upload a helpful map with my pictures but if TA do not publish this, email me for a copy. Off road parking in front of the restaurant. Monday is their day of rest, and from October to May they open for lunch Tuesday to Sunday and in the evening from Thursday to Saturday. From June to September diner is from Tuesday to Saturday. Booking essential for Sunday lunch and advisable for other times. All the menus are on the website. Average 3 course meal with wine 40€
Reservations on 95289 5152, 620703195 or Christian@arroyo-hondo.com. Website www.arroyo-hondo.com
Bishlin marks out of 5.
ambience 4.5
food 5
Menu:5
service 5
value 4.5
O/A 4.5
Please mention to the restaurateur that the restaurant was recommended in the "MarbellaFamilyFun.com" Newsletter. To see even more reviews on the best restaurants in Marbella, check out The Bishlin Guide.