Summer Beach Volleyball Camp
by Marbella Family
(Marbella)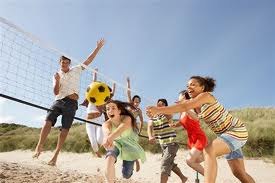 Marbella Volleyball Summer Camp
If your kids like volleyball they will love this summertime volleyball camp which takes place right on the beach in the San Pedro area of Marbella.

The camp is designed for kids aged 6 and up and its a great place for teens and young adults to play as well.

• DATES: 22 June - 04 September 2015
• LOCATION: Marbella, San Pedro Beach near the "Starting Gate" racing statue
• AGES: 6 years and up
• TIMES: 17:30 - 18:45 (for kids born after 2001); 18:45 - 20:00 (kids born 1999-2000); 20:00-21:15 (born 1996 or earlier)
• PRICES: €35/month; €60 for 2 months (discounts available if more than 1 person plays per family)

The camp is open to kids and adults of all skill levels. For more information, contact details are below:

Rocio Diaz: +34 627 195 828
Tania Vera: +34 633 662 843

Twitter:@voleibolsnpedro

Website: www.voleibolsanpedro.es

Looking for more things to do in the area? Check out the San Pedro Boulevard for loads of great things to do with the family.






Click here to return to: PARENTING: CAMPS & CLASSES - summer camp.