Shango's Nueva Andalucia
by Morris Bishop
(San Pedro de Alcantara)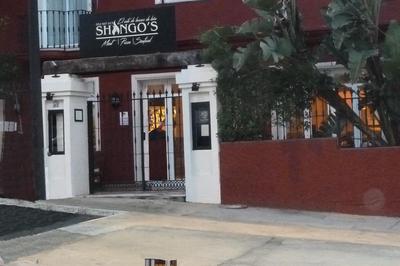 The approach
Having been recommended to a restaurant that serves 'scrumptious meals' called Shengo's, we duly go along to find out if this is one worthy of a review. The name Shango refers to a deity that is known as the God of thunder, lightning, and fire, and indeed they use a wood burning Pizza oven and grill for a lot of their cooking. But I think that the flavours and textures that Chef-owner Nick gets out of his is oven, is more to do with them sourcing their meat from a Galician company that hangs its carcasses for 28 days before butchering, rather than from the God of fire!

The cuisine has a heavy Italian influence, with Pizza's featuring in this, but there are many Spanish and international dishes to select from in the 'Step paged', and well organised menu we Chose starters of Black pudding, (my wife raved over this) and their interesting take on Pil-Pil that had besides the prawns, chunks of chorizo and cherry tomatoes, both dishes were accompanied by very pleasant, hot bread roles, made from chapata dought.

For our mains, having read about their meat's pedigree, we selected a Beef chop and an Entrecote steak, and I must say they were both as good as it comes! cooked exactly to order and accompanied by wedge potatoes & a pepper sauce for madam and a jacket potato & mushroom sauce for me, The word Yummy was banded across the table, and I actually managed to finish my half kilo, refusing to waste one morsel of this prime piece of meat. No room for dessert though! The fact that we said "There are Lots more to try on our next visit" - says it all.

The VS.
Shango can be found in Nuevo Andalucia on the principle road from the A7 up to La Campana, Avd. Miguel Cervantes, No.23, Bookings are advisable (as they were full on the evening of our visit) on 952907913 or 722677332 or shangosrestaurant@gmail.com See their menu on www.shangosrestaurant.com. Street parking. Average 3 course meal with wine €25. Matra 'D, who is the other half of the dynamic team was the very helpful and personable Diana, The pleasant dining room has about 60 covers and a further 30 on the patio, comfortably furnished and pleasantly lit, they open for Dinners only 7 days a week from 19:00h and for Sunday lunch.

Bishlin Guide marks out of 5
Ambience: 4
Food: 5
Service: 4.5
Menu: 4
Value 4.5
O/A 4.5


Please mention to the restaurateur that the restaurant was recommended in "MarbellaFamilyFun.com" Newsletter. To see even more reviews on the best restaurants in Marbella, check out The Bishlin Guide.