Ristorante Da Bruno | San Pedro de Alcantara
by Morris Bishop
(San Pedro de Alcantara)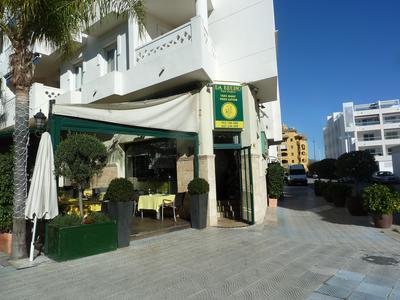 the approach to Da Bruno's
Maitra D' Fidel greets us with a sample of the Pate Negro he is carving and we settle down for what I know will be a meal whose quality will be of the highest standard.


Such is the consistency that we have come to expect over the twenty-four years we have been dining at one or other of the half dozen of Bruno and Giuseppina's eateries.
The elegant dining room has about 70 covers with a further 60 for alfresco dining. Place settings, lighting, comfortable seating, all add to the feel good factor and it would be hard not find something to please from the extensive Italian menu that contains a full allergens listing.
We were a party of four who chose as starters, Foie Gras with Caramelised apple slices and honey, a half portion of Spaghetti Bolognese, and Lobster soup with beans (their term, so not a Bisque?).
Mains consisted of Grilled Liver, a Seafood Linguini, Mushroom Fettuccini, and a dish that is not on the menu that they will make on request, Escalope Marsala which is one of my favourites. Surprisingly my brother in law said of his soup "that the Lobster taste could have been stronger" but apart from this, all agreed that the whole meal was excellent.
Service from the well trained staff was attentive without being intrusive
The VS: Da Bruno can be found just south of the central round about on the Boulevard in Avda. del Mar. Street parking or in the underground parking just north of the roundabout.
Monday is their day of rest and they open for Lunch and dinner. Average cost of a three course meal with wine 40€ but there are many pasta and pizza dishes for around 15€ They even have a TakeAway service.
Da Bruno Loyalty card holders take note: if you forget your card and come back the next morning to get your points added, they are unyielding in refusing to do so!
See the Menu on www.dabruno.com
Tel: +34 952786860
Bishlin Guide marks out of 5
Ambience: 5
Food:4.5
Menu:5
Service: 5
Value: 4.5
O/A:: 4.7
Please mention to the restaurateur that the restaurant was recommended in the MarbellaFamilyFun.com Newsletter.

To see even more reviews on the best restaurants in Marbella, check out The Bishlin Guide.
Da Bruno | San Pedro de Alcantara