Restaurante Pampita
by Morris Bishop
(mobidata@gmail.com)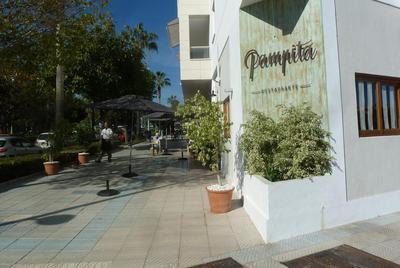 The approach to Pampita
Talking of beef, calls up a visions of Estancia's on the Pampas, Gaucho's in the Saddle, and the almost unique texture that a good Argentinean Entrecote Steak has. Added to this, the fact that it will be cooked on an Asado (Argentinean Barbecue) and I am almost to point of drooling.

A Currascaria is what an Argentinean would call Pampita Restaurante, which is one of a bevy of new restaurants that has recently opened in up in Gastro San Pedro.

The very pleasant dining room is beautiful appointed and decorated, with much attention being paid to comfort, lighting and table settings, that includes Linen napkins (almost becoming a rarity).

Seating about 60, with many 6 seater booths incorporated, there are a further 60 covers in the broad pavement area in front of the restaurant.

Although beef is the principle protein in the well organized menu, chicken, Iberian Pork, Lamb chops, Salmon, and a Shepherds pie are also listed for mains.

Knowing the size of the meal to come, we decided to share some Canasitita (small Prune & Bacon parcels) with a Goats Cheese salad for our starters, and guess what we had for mains?

I think between us we tried all the alternative sauces and accompaniments available with the Steaks, each of which were cooked to our individual liking, indeed the whole meal, was delicious, well presented, and of such a size that 'doggy bags were the order of the day.

For Dessert we could barely manage to shared Chocolate mouse and cheese cake from the 10 on offer.

There is a sensibly priced wine list from which we chose the house White and red.

Pescetarians, Vegetarians and vegans stay away!

But If, like us, you are a carnivore, then this eatery is a must.

The V.S.
Pampita can be found in Avda. Del Mediterraneo. They are the last restaurant down towards the coast from the central round about on the Boulevard in San Pedro.
Reservations on +34 951899553.

Street parking, or underground in Avda. Marques del Duero
300 m.

The Boss man is Jose, Yolanda was our helpful waitress and our waiter was called Just.

They open for lunch and dinner Tuesday to Saturday and for Sunday lunch.

Average 3 Course meal with wine 40€.

Bishlin Guide marks out of 5
Ambience: 5
Menu: 4.5
Food: 5
Service:5
Value: 4.5
O/A: 4.5



Please mention to the restaurateur that the restaurant was recommended in "MarbellaFamilyFun.com" Newsletter. To see even more reviews on the best restaurants in Marbella, check out The Bishlin Guide.

DATE: November 2015.