Restaurante Alfredo San Pedro
by Morris Bishop
(Marbella)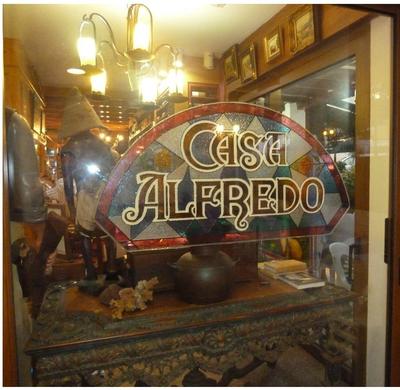 Alfredo restaurant San Pedro de Alcantara
I am somewhat reluctant to use the phrase "Horses for Courses", and can promises you that this particular protein is definitely not on the menu, but we, like a good many other diners, inevitable go to certain restaurants for certain dishes. That judgment is some what unfair for Alfredo's, because they have a plethora of other very good homely cuisine on offer. Having said that, their Lamb Chops are, consistent, very tasty, and with a half kilo portion plus trimmings filling a 30 cm plate, are quite Irresistible, and it goes without saying what three of us had.


We have been going to Alfredo's for over twenty years, and indeed I wrote a review nineteen years ago for The Sunday Sun, so for a bit fun I thought I would do "A then and Now".
But back to the present – The size of their starters are a challenge, and for the smaller appetites could easily be shared. Of the 15 on offer we chose the avocado and prawns and melon and prawns.
For a fish dish they still have a selection of Rosada, Cod, Sward fish, Sea bass amongst a total of 10.
A choice of a dozen meat dishes of Beef, Lamb, Pork and Venison (which I had on a previous occasion here and was delicious). Deserts are the usual selection one expects and are not really their thing, but they do make a very smooth Mousse de Choclate.
When you get the formula right don't change it – these were my notes of 19 years ago
Bishlin marks out of 5:
ambience 3
food 3
menu 3
service 3
value 3
average meal 30 euro
---
Written for the Sunday Sun 19th. June 1994
This one, I should keep secret! We were lucky to get a table! Why should I tell all the Sunday Sun readers about this jem in San Pedro de Alcantara. ALFREDO'S is a paper table-cloth eatery that has the right formula to attract a 'full house' every
night of the week. Good food, well prepared and cooked, sensible priced, and with a hustle-bustle ambience that make a fun place to be, and friendly but efficient staff.
These are the ingredients that make me, and I suspect many others, want to return. On entering , all the food on offer is displayed in a chilled cabinet and the freshness was self evident. Our party of four shared a mixed salad and an avocado with prawn salad (400 & 700 pesetas) and I must say that the pawns were quite the largest I have seen for an avocado starter. The portion of fried Rosada and the size of the Grilled Sole left us struggling. On the menu, most of the meat dishes are specified by weight, so you know the Entrecote is 350 gr. (3/4 lb.) and the Sirloin is 250 gr. both costs 1100 pesetas. You can have ½ kg. or 1 kg. of Lamb Chops for 1400 & 2500 pesetas respectively, as well as 300 gr. (2/3 lb.) Pork solomillo (900 pesetas)
All the dishes I saw were generous, simply presented, and save for some French fries, without accompaniments.
The House wine "OK" but Marques de Caceres tinto at 1000 pesetas must be a better bet, though the Faustino 7 blanco at 1100 pesetas was, by comparison, slightly OTT! Desserts were only of the ice-cream variety, the bread fattening, but
essential for mopping up, and the smiles on every-body's faces when paying the bill told it all.
I have written this on the basis that you promise not to spread the word, otherwise We will never get a table! On a second visit to ALFREDO'S – excellent steaks – all As good as before, but mathematics were not the strong point of our waiter, as it took three goes to get the bill down to the correct amount (7700 not 8800) and not simply on the addition. My advice, check the bill carefully.
ALFREDO'S is behind the antique market in C/.Andalucia. phone 278 6165.
No cards. Open for lunch and Dinners every day.
No menu del dia. Average three course with wine 2000 pts.
Bishlin marks out of 5 ambience 2 food 3 menu 3 service 3 value 4
Morris Bishop
CHANGES
Alfredo's is twice the size now. They do take credit cards. The antique market is
Not there anymore. Dishes are now served with accompaniments. No longer paper
table clothes and serviettes. The bills are now computer produced and are correct.