| | |
| --- | --- |
| Posh Pets Spain | |
share this page with a friend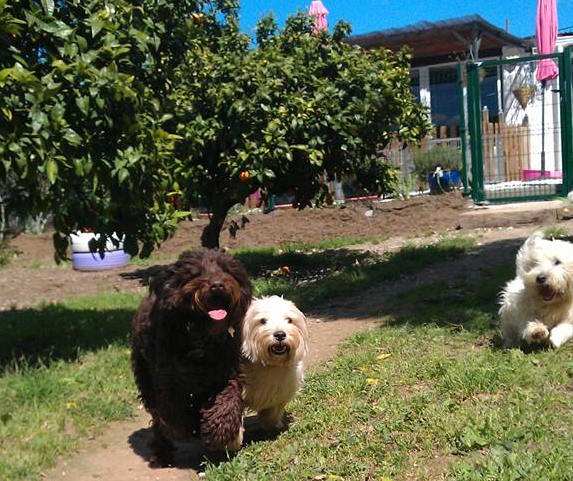 Posh Pets Spain is more than a highly-recommended kennel and cattery service with over a decade of experience on the Costa del Sol. It is a dedicated team of individuals offering everything for all your pet needs, including: short and long-term boarding, grooming services, obedience training, pet accessories boutique, pet transport service to and from the UK as well as the rest of Europe. And because Posh Pets offers a hassle-free pick-up and delivery service, your pets can enjoy the benefits of staying on a large, well-appointed and protected property in the Andalusian countryside.
The company launched back in 2004 as the English Pet Grooming Salon in the village of Alhaurin el Grande. Posh Pets founder, Rachel Goutorbe, brought her unique knowledge and skills from both the pet and show world in the UK to Andalucia. The facility is set in a mature orange grove that is safe, expansive and secure for your pets' enjoyment. Dogs have a huge playground in which they can run freely in the mornings after breakfast.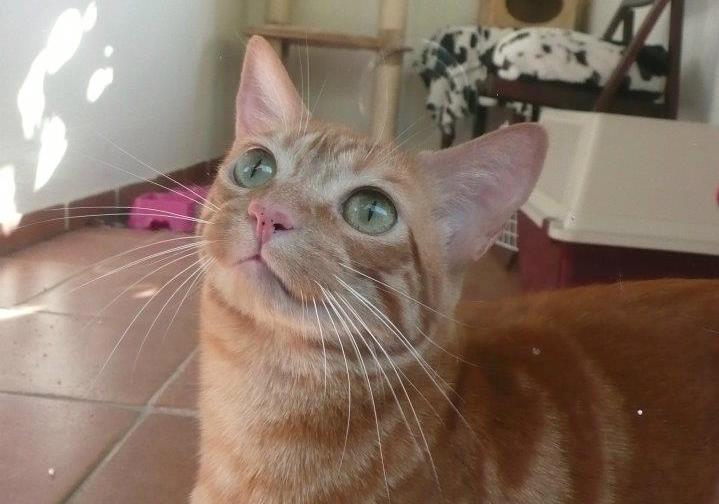 This private facility has the right infrastructure to make sure your dog, cat or pet is taken care of under any conditions. Each pet has their own 'chalet' complete with air conditioning, heating and a fan, which is particularly important during the summer season. Each chalet is fully tiled and insulated with a large "bed bench" the size of a human single bed raised 10cm off the ground for your pets' comfort. Also provided is soft and clean bedding. The accommodations also include a water sprinkler system for the summer days with its own toy box and background music is played throughout the day to keep pets entertained.

Making pets feel comfortable through healthy playtime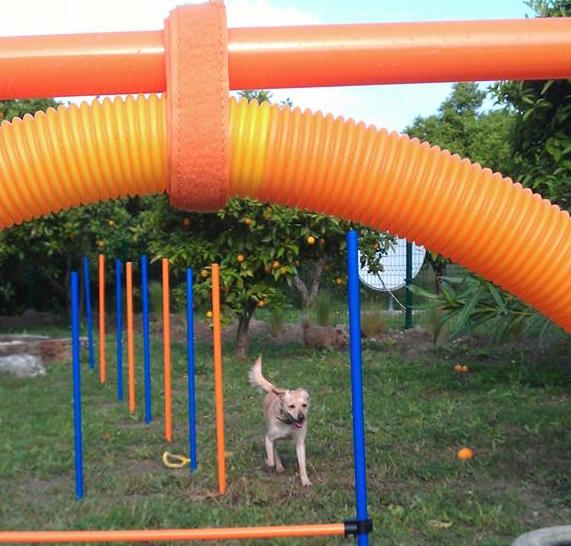 Central to the philosophy of Posh Pets Spain is that your pet should receive ample playtime and interaction for a healthy and enjoyable experience. The facility caregivers provide one-to one care with each pet and they specialise in providing them with their own 'holiday' suited just for them. 

New from Spring 2015, dogs will also have a Sensory Garden & Playground - the first of its kind in Spain. The new installation has been engineered to stimulate canine instincts and build their confidence as well as to tantalise all their senses. The Sensory Garden will encourage dogs to interact with their surroundings and provide physical and mental challenges helping dogs de-stress and adjust to their surroundings easily and naturally.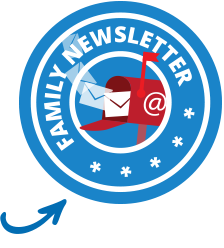 | | |
| --- | --- |
| | Boutique Dog Hotel: this is very comfortable accommodation, friendly and in a non-commercial environment which is designed to help your pet de-stress and relax in their new surroundings. There are individual unique styled chalets, fully tiled, complete with air-conditioning, fans, a large bed set off the ground complete with toy box &  set up with its own private enclosure  surrounded by a mature orchard.  |
| | The Boutique Cattery: is located in a secure area, away from the Dog Hotel. Large rooms are tiled and have panel heaters and heat pads for the winter. During the summer it is naturally shaded by a large mature tree. The rooms come complete with beds, fresh bedding, litter tray, climbing frames, cat trees, toys & music. |
| | Grooming: now with three dog groomers onsite and Rachel's knowledge of the pet grooming world, she has nearly 20 years of experience running her own grooming salons. Posh Pets Spain is not only fully equipped for grooming & clipping dogs as well as cats, it is also an internationally renowned Groomer/Pet Beautician training centre taking students from as far afield as Dubai, Malta, Greece & Lithuania so they can follow their dream and take a new career path. |
| | Pet Transport & Local Pick Up & Delivery Service: the company coordinates secure and comfortable domestic pet travel, transportation and relocation by land to-and-from Andalucia on the Costa del Sol, Spain to France and the UK. They are also Qualified Pet First Aiders & holders of Pet First Aid Certificates. |
| | Pet Boutique: for those looking for something special for their pet, you'll find a boutique pet shop in Alhaurin El Grande which offers a fantastic assortment of pet products including pet clothing, dog and cat collars, personalised items and much more. They also offer an onsite ID Tag engraving service with a vast array of pet ID tags to choose from. |
| | Obedience Training: central to a healthy relationship and a happy home is a well behaved pet. The company offers multiple levels of obedience training so you can build an enjoyable, productive family life with your pet. Training programmes are tailored to suit your individual needs so contact Posh Pets for more details. |
Posh Pets offers food to keep your pet healthy and well behaved

Posh Pets has created a new standard in nutritional care for your pets. Posh Nosh is a nutritionally, well balanced, high standard and complete pet food that has been specifically developed to help give you a healthy, happy pet.
The product line offers the ultimate in quality and selection to include a Good Health Herbal Tonic which they have strived to naturally produce here in Andalucia. This highly palatable and digestible range of foods are at the forefront of foods of this type and with all the cereal contents being GM free this diet will stand nutritional comparison with many alternatives costing twice as much.
The complete pet food offered by the company has been developed and manufactured in the UK exclusively for Posh Nosh. Posh Nosh Bags are eco-friendly, high quality, strong and lightweight. An easy, yet powerful way you can be part of the change that makes a big difference for good!
As the team like to say, it is 'a good bag with a BIG heart!"
Stress free pet boarding, grooming and travel
The company is a great believer in giving your pets plenty of space so that they do not feel stressed. The pet exercising enclosure is among the largest in the area giving plenty of room for them to play in. Posh Pets believes pets need freedom and space to enjoy their stay without being kept in over-crowed conditions.

The grounds are fully secure with CCTV and caregivers live on-site year-round so you can rest assured that your pet will be properly looked after 24 hours a day. Posh Pets understands owners' concerns for the care of their pets and delivers peace of mind that your family friend will receive the same love and attention as you would bestow upon them at home.
Regularly photos of your pets on their posh holiday are posted on their Facebook page as well.
For clients there is also a pick up & return service, in addition to the following services:

• Individual requirements catered for & medication administered.
• All the beds, bedding, bowls & litter trays.
• Easy pick-up and drop-off of pets direct to the Salon during opening hours.
• Storage facilities for fresh meat if clients wish to bring this.
• Residential dog training can be coordinated on-site.
• Bathing & Grooming service offered before home time.
• Worm, flea & tick treatments.
• Licensed Collection & Delivery Service.

Viewings :

Clients are recommended to visit the establishment before booking your pet in for boarding. Contact Posh Pets for details on viewing times.

Pricing for Boarding Services
Prices below are inclusive of IVA:

1 DOG PER DAY (2 DAYS +): €13.50
2 DOGS SHARING FROM SAME OWNER (2 DAYS +): €25.00 PER DAY
1 CAT PER DAY (2 DAYS +): €8.00
2 CATS SHARING FROM SAME OWNER (2 DAYS +): €16.00 PER DAY
(Discounts are given for 3 or more pets sharing 2 DAYS +) Please ask for a quote
(For pets staying for 24 hrs or less "kindergarten stay" please add 2 euro per pet to the daily ratee)

Christmas day, Boxing day & New Years Day will incur an extra daily charge per client booking of:
Dogs €10 cats €5 (a mixed booking of a dog & cat will incur a €10 charge)

If you require extra services such as bathing, training, grooming, worming a supplement charge will be made. Also note that if any pets require post-operative care or have lots of medication or injections & special needs, a small supplement may be charged for this facility to cover the extra work involved. 
Visit the website, below, for Terms & Conditions related to Pet Boarding.

CONTACT

Finca Margarita, Camino de la Dehesa Baja, A-404 (200m from Venta los Chavos) 29120 Alhaurin el Grande, Malaga, Spain
have a comment or question about posh-pets?