Porterhouse Grill - Nueva Andalucía
by Morris Bishop
(San Pedro de Alcantara)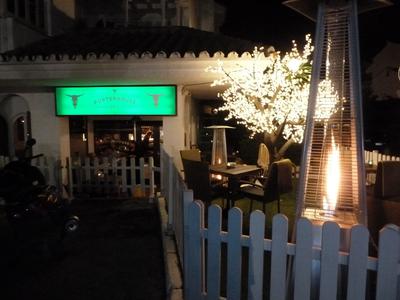 Porterhouse Grill - Restaurants in Marbella
This is one of those new restaurants that we had been meaning to visit but never seem to get around to actually doing it. November is the lean month as far as restaurateurs are concerned and during this time many close, so when an email booking for an other eating house was unacknowledged we made the obvious connection, at the same time, some friends that we were to be dining with expressed a penchant for a good Beef steak – so Porterhouse jumped to the fore, although I did not know very much about it except that it took the place of Petite Bistro (one of our favourites) and had, in a short time built up a 'steak house' reputation.


Imagine our delight when we find that David the chef from Pettit bistro was still there and that the porterhouse's patron was that 'serial restaurateur Howard Holland, ably abetted by daughter Christie. The team was completed by maître 'D Maythel, and the anticipation level couldn't have been higher.
The 24 cover dining room is little changed save from some new wall decorations, but the new menu is. as you would expect, heavily biased to please the carnivores, indeed there is only one token Salmon dish and one for the Vegetarians but Beef, Pork, Lamb and Chicken dishes abound. From a dozen interesting starters, three of our guests opted for the Chicken Liver Pate with a Blackberry compote and chunky toast, and I had a Roast Tomato soup with a Goats Cheese gratinated 'sticks' that was superb, and I want the recipe please. All three finished off the Pate before I could get a taste but I am reliably informed that it was delicious. For mains two had a 350 gm. Beef Sirloin and both agreed on the excellence of taste and texture, cooked perfectly to order they were very happy peep's. The other two, and I was one of them, shared a Chateaubriand, ordered to be medium rare, and indeed it appeared to be exactly that, but in comparison to a Chateaubriand that we both had some 4 weeks ago it fell a little short in taste and texture, granted the comparison sited was as near the best that I have had, EVER! It truly pains me to write this comment together with my personal dislike of 'Skinny chips, particularly knowing the undoubted talent of chef David and it will certainly not stop me from returning
The V.S:
Porterhouse can be found at the corner of C/Iris and C/El Azahar in Edificio Jardines Tropical,. local 3a, which is in the back road just west of the H10 Plaza Hotel in Nuevo Andalucia . They are open for dinners only and their day of rest is Sunday. Parking in the square in front. Average 3 course meal with wine 40€ They have a 3 course 'early Bird' menu between 17:30 and 19:00 for 15€ and a 2 courses for 12€
Reservations on 952905017 or email eat@porterhousegrill.es
Bishlin Guide marks out of 5
Ambience: 5
Food: 4.5
Menu: 5
Service: 5
Value: 4.5
O/A: 4.7
DATE: November 2016
Please mention to the restaurateur that the restaurant was recommended in the
"MarbellaFamilyFun.com"
Newsletter. To see even more reviews on the best restaurants in Marbella, check out
The Bishlin Guide.