Pasta Y Basta | Nueva Andalucia
by Morris Bishop
(San Pedro de Alcantara)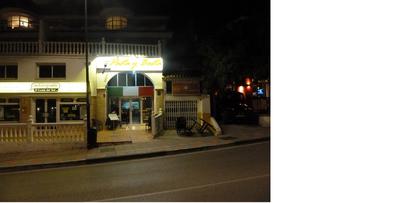 the approach to Pasta y Basta
What a traumatic birth of a new restaurant this was.


For shortly after its original opening, due to a complaint from an upstairs neighbour of cooking odours in their apartment, the authorities shut them down. Some six months later after a complete rebuild of the extract ducting, and the discovery that the Neighbour had cut into the original duct, they receive a clean bill of health from the 'powers that be' that allowed them reopen.
The restaurant has a bare bones décor with exposed ducting and rough plaster walls combined with very chic wall decorations and furnishings, comfortable chairs, and nicely dressed table settings.
Included on the wall above the 'open to view' kitchen is the front end of a Fiat 500 who's headlights are incorporated in the eclectic lighting system. On entering the dining room, the first thing that you see is a machine for produce all manner of fresh pasta, and next to this is a well stocked bar area. Altogether a most pleasant room to dine in, seating 22 inside and in the more clement months 20 on the forecourt
Although the menu is quite small they are prepared to adjust most of the dishes as to the which pasta and sauce are used.
Our quartet chose for our starters to share a Tricolour salad, and Beef Carpacio with Parmasan slices, and for mains, Lasagna Ragu, Arabita Fusili, a Fig Ravioli with Goats cheese in a gorgeous sauce and for me an Escalop with a Malaga wine sauce and a wild mushroom pasta. All sorts of noises were emanating from all four of us like 'Mmmmm', and 'yummy', and 'special', and 'best ever', so you will gather that we were well satisfied with the whole of our meal thus far. We had to force ourselves to share desserts of Tiramisu and Chocolate Fondant – but it was worth the effort! Having said all that one of the pieces of the Escalop was under cooked, but when el patron heard of this he refused to charge me for the dish, even though I asked him not to do this, such is his dedication to try to achieve perfection, and I applaud him for this.
The 'hands on' duo of Andy and Michael who are both owners, and wait at table, combined with some fabulous Italian dishes produced by chef Cedric means that we will be returning- soon!
The VS.
Pasta and Basta can be found in Avda. Miguel de Cervantes, Compana, Nueva Andalucia they open for dinners only at the moment. Their day of rest is Monday. Average 3 course meal with Wine 35€ no menu del dai. Street parking.
Reservations on +34 676049059
Bishlin Guide marks out of 5
Ambience:5
Food:4.9
Menu:4.5
Service:5
Value:5
O/A:4.5
Please mention to the restauranteur that the restaurant was recommended in the "MarbellaFamilyFun.com" Newsletter. To see even more reviews on the best restaurants in Marbella, check out The Bishlin Guide.