Party Extras

(Marbella)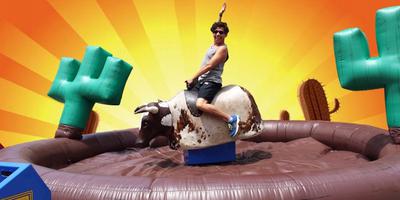 Mechanical Bull
Looking for something really fun for your next party or event?

If your kids are tired of the same old inflatable bouncy castles or are simply looking for something new, maybe its time to try a Rodeo Bull, Airborne Adventure or Surf Machine?

Party Extras has been established on the coast for many years and have the most fun and up-to-date equipment to offer, including bouncy castles, if that is what you're looking for. Catering for any fun-filled event and providing alternative party games throughout the Costa del Sol.

With Party Extras there is something for every age group. All mechanical equipment is hired with a fully-trained, fun loving operator for the duration of the hire.

AVAILABLE EQUIPMENT FOR HIRE:
• Bouncy castles
• Rodeo Bull
• Surf Machine
• Airborne Adventure

RODEO BULL
This mechanical bull provides great entertainment for almost any type of function. Ideal for all ages, this simulated bull twists and bucks for rollicking fun for everyone. Intensity settings can be adjusted to accommodate any age group.

Area Required: 5 x 5 meters.

SURF MACHINE
This fantastic life-sized electronic surf machine realistically simulates wave motion, making any event a special occasion. All ages can enjoy hours of fun on the specially controlled surf board. Intensity settings can be adjusted to accommodate any age group.

Area Required: 4 x 4 meters. The surf machine comes with trained operators for a period of 4 hours.

AIRBORNE ADVENTURE
Airborne Adventure is the only answer for someone who wants something really different. This game has an inner capsule where one adult or child is harnessed into a parachute. A flick of the switch on a second blower and it's up, up and away, raising them almost 20ft into the air for a birds eye view of the entire area. Turn off the blower and they are gently lowered back down to the ground. This gives "Hangtime" a whole new meaning!

Rental includes setup and takeaway with a trained operator on the machinery, so your hiring experience is effortless and carefree. Contact Party Extras at their details, below.

CONTACT
Lisa: +34 627 330 450
Mike: +34 650 242 476

Email: mike@partyextras.net
Web: partyextras.net

All enquiries are responded to within 24 hours..