Pan & Cioccolato C.C.Guadalmina
by Morris Bishop
(San Pedro de Alcantara)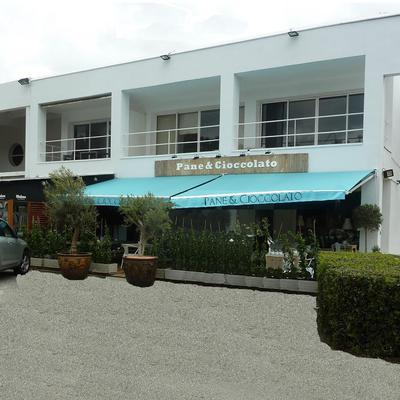 Pan & Cioccolato
Open for less than a week, this stylish bistro's mantra is serving health food to, what is quickly becoming, judging by the number of eaters there when we lunched, the IN place to be! This is the second P & C eatery, the first opened 6 months ago in Sotogrande and proved equally as popular. So owners, Leanora and Nicky have simply duplicated it here. The restaurant has 20 covers and a further 40 on the pleasant terrace, all decorated and furnished in a country kitchen style,


As the name might suggest, they bake their own bread, quiches, desserts, pastries, and serve many different Italian Panino (toasted sandwiches) as well as wraps and salads, with much of their produce on show, and available to take away. They have a few, more substantial dishes of Beef, Burgers, Pizza and pasta, and lots of freshly made Smoothies and Juices.
When checking out the restaurant on their opening day, although not on the menu, I asked if they could cook an Escalopine Marsala, for me, and they said yes, so this is what I had when we returned a few days later, and my wife had a chicken salad. Both were pleasant and accompanied with some of their home made bread. We returned a few days after our first visit with friends for a light lunch and were pleased with our choices of Tanino Iberico, warm chicken & Goats Cheese salad with red onion, raisins, and pomegranate, and we even bought some of their bread!
Pan & Cioccolato are located at the very first unit of the Guadalmina commercial area, they are currently waiting for a land line, but in the mean time 609131359 will reach Leanora.
A reasonable amount of parking, adjacent too, and behind the restaurant.
They open for Breakfast, Lunch, and dinner, and their day of rest is Sunday.
Average price of a 2 course meal with wine 20€ with many snacks under 10€.
Bishlin Guide marks out of 5
Ambience: 4
Food: 4
Service: 4
Menu: 4.5
Value: 4 O/A: 4
Please mention to the restaurateur that the restaurant was recommended in the "MarbellaFamilyFun.com" Newsletter. To see even more reviews on the best restaurants in Marbella, check out The Bishlin Guide.