Noto Food & People Restaurant | Nueva Andalucia
by Morris Bishop
(San Pedro de Alcantara)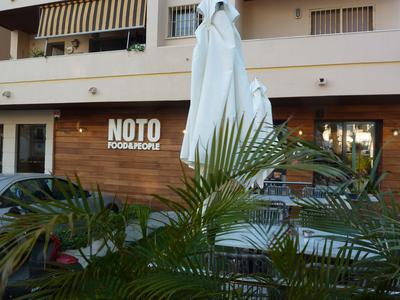 the approach to Noto
In what used to be Restaurante Regina's that opened its doors some 22 years ago, another eatery has emerged with some continuity in that it too has Italian cuisine and retained chef Luchiana, our waiter Angelo and Enrico.


The dining room has been tastefully reconfigured by Natalia, the new Russian owner with one of the principle features being the lighting. This is made of some 30, two meter rings each with 70 odd LED's and is most effective. part of the 85 seater room is divided by Hostas plantars, and in this 20 covers area, is a feature of a live floral wall. With a further 40 places on the deck outside that is adjacent to a very pleasant garden.
The menu contains most the things you would expect to find in a good restaurant of this cuisine, from which we chose, (with advice from the kitchen to circumvent my intolerance to anything cooked in Olive Oil), starters of Fish & seafood soup and Spaghetti Pil Pil, followed by mains of pan fried Liver and Onions with mushrooms, and for me Scaloppini Masala with vegetables.
The soup was superb, the Pil pil was dry and was helped by my wife donating some of her soup to make it more palatable, the liver was OKish, but my Marsala dish came sauce-less, and overdone to the point of been leathery. Eventually after pointing this out to Maitra D' Gen (short for Evgeniya) she brought "a special sauce" which consisted of a small serving dish of mushrooms with a tiny amount of brownish liquor in it, which certainly was not made from Marsala wine.
The presentation was all but non-existent, but I will linger no further on the food. The excellent entertainment in the form of Georgina Morris was most pleasant and all the staff were attentive and friendly.
I realise that with the full house, as it was, and having to deal with a food intolerant client, that the kitchen was likely to become stretched, but allowing for that, they should have been able to cope in a more professional way and not make the basic errors that they did.
As to whether we will return - The jury is out!
The V.S.
Noto can be found on the round about in Calle Azahar, which is the back road to the H10 hotel in Nueva Andalucia. Street parking.
They open every day for lunch and dinner.
Average 3 course meal with wine 40€ The two course menu of the day for 15.90€is available from Monday to Friday before 17:00h
Reservations on 952814529 or on their website www.notorestaurant.com
They have a meal delivery service on +34 693007586
Bishlin Guide marks out of 5
Ambience:5
Food:3
Menu:4.5
Service:5
Value:4
O/A: 4
Please mention to the restaurateur that the restaurant was recommended in the "MarbellaFamilyFun.com" Newsletter. To see even more reviews on the best restaurants in Marbella, check out The Bishlin Guide.