Nicolas Valiente Dance School
by Marisa
(Marbella)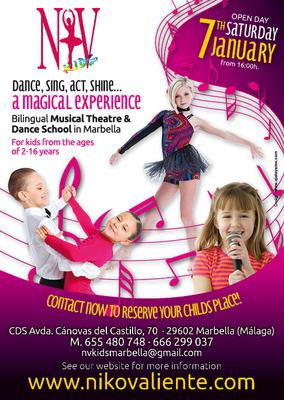 Nicolas Valiente Dance School
New Bilingual Musical Theatre & Dance School in Marbella
We are proud to announce the opening of our new bilingual Musical Theatre & Dance School for kids from ages 2 -16 years in Marbella in January 2017! Open Day on Saturday 7th Jan!
Our mission is to offer kids a magical and fun experience whilst learning the 3 elements of musical theatre (acting, singing, dancing) or coming to our mid-week dance classes.
If your child is active, likes to sing, dance, born for the stage, shy.......NV Kids is the place! Sign up soon to reserve your childs place!
Marisa & Niko are the current owners of the Nicolas Valiente Dance Academy and La Clave Discoteca Latina in Marbella www.nikovaliente.com