Mr Peter Venning, designer and creator of Stained Glass.
by peter venning
(Ugijar, Granada, Spain)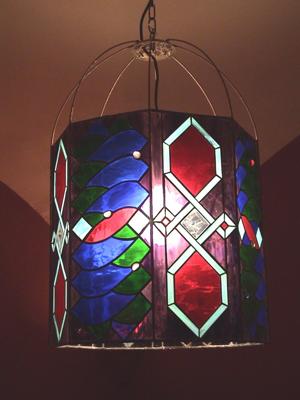 Dear Sirs,


Please find attached 4 photographs of stained glass items.
The first picture is of a lamp, commissioned by a couple living in a renovated, Moorish cortijo near Mojacar
The second picture is a window, depicting an Arabic Prayer which was engraved on a small medallion. The window is about 50cm x 90cm. Forgive me if the calligraphy is not precise.
The third picture is a window, about 50x50cm, inspired from a floor tile which I saw in the Museo de los Tiros, Granada.
The fourth picture is of a mirror. The border was inspired by a roof tile from Turkmenistan.
I have been studying Islamic Art and Sacred Geometry for a few years now and find this subject totally fascinating in the way that it relates to the existence of all things in a cosmological way.
It is my intention to spread this beautiful and awe-inspiring insight of the universe through my visual art of stained glass to all people around our small planet.
Best regards,
Peter Venning
Tel: 637 465 508.
web-site: www.inshalahstainedglass.com