Marbella Kayaking, Canoeing, Fishing & Safari Trips on Lake Istan (10 minutes from Puerto Banus)
by MarbellaFamilyFun.com
(Marbella)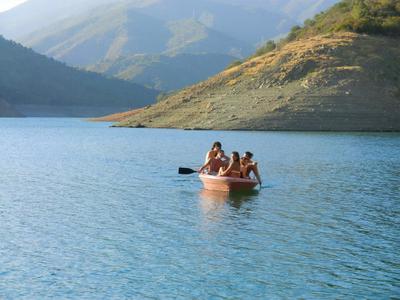 Kayaking in Marbella on Lake Istan
Looking for a great, outdoor family adventure in Marbella? Call us to coordinate everything for a truly unique experience on the magical lake of Istan, just minutes from Marbella!


We know how you can get all the equipment for a turnkey experience in the lake nearest to Marbella: Kayaks, Canoes, Fishing Equipment and more. All you need to do is show up with your enthusiasm and everything else will be taken care of.
We are in touch with one of the few local agencies to have access to beautiful Lake Istan, a fantastic venue for exhilarating activities that will make you feel energised and inspired.
What makes this services unique is that the local experts have evaluated and selected the most breathtaking outdoor sites near Marbella, suitable for all ages and abilities.
Whether you're an experienced angler or out for your first time, you're guaranteed to have an amazing time.
Lake Istan is 10 minutes from Puerto Banus and access to the site is via a 10 acre olive and almond grove directly on the lake.
ACTIVITIES AVAILABLE
You'll get access to the following activities:
• Lake fishing
• Canoeing
• Kayaking
CONTACT DETAILS:
Mobile: +34 663 328 191
Email:
capt-amer1@hotmail.com