Marbella Adventures
by Matheus Demetri
(Marbella, Puerto Banus)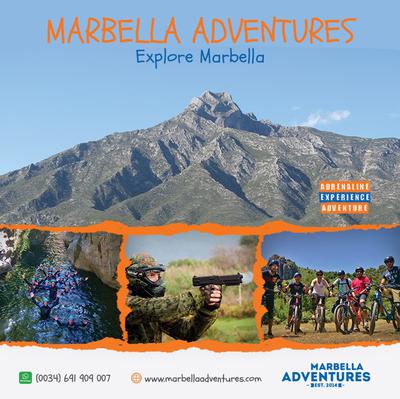 Marbella Adventures
Marbella Adventures

Welcome to Marbella Adventures. A Multi Activity Adrenaline Adventure company in Puerto Banus, Marbella

• Sierra Nevada Ski Trips
• Canyoning
• Quad Bike Tour per hour
• Caving
• Canoe & Kayak
• Jeep Safari & Kayak
• Aqwa Skipping
• Downhill MTB
• 4x4 Trips
• Stand Up Paddle Board
• Archery Tag

WINTER SKI EVENTS
Marbella Adventures also organises great ski events for kids and families to the beautiful Sierra Nevada mountains. This is really fun for the whole family or a day out with friends. If you haven't been to Sierra Nevada yet, this is not one to miss. Loads of shops, restaurants and fun things to do with breathtaking views of the mountains.

So whether you ski, snowboard or just want to come and build snowmen, this is a great way to do it with a fun, organised group.

For those who do ski or board, Marbella Adventures offers a free guided service included. They'll also provide skiing and snowboarding lessons by the hour for an additional fee.

CONTACT
Tel: +34 691 909 007 (WhatsApp or Call)
Email: hola@marbellaadventures.com
Website: www.marbellaadventures.com

Next Sierra Nevada Trips

• Family Trip - Saturday 13th February
• Adult Trip - Saturday 30th January

MEETING SPOT: at Marbella Paintball in Puerto Banus opposite Iceland where you can park your car for the day for free.