Malaga Feria
by Marbella Family
(Marbella)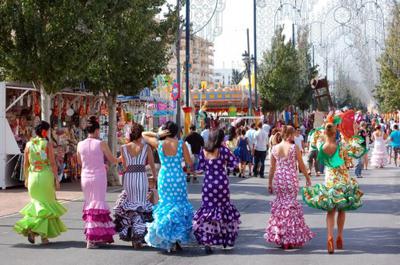 Traditional Spanish Flamenco Dresses
Every year the city of Málaga lights up as it celebrates its week-long fair with live music, dance, traditional food, flamenco, and amusement park rides. This year the Malaga Feria kicks off on August 13 and runs from August 16 until August 20, 2016.


The city will be busy with street decorations, flags, fireworks and more. The day fair starts around noon where locals dress up in their finest traditional costumes and parade through the streets meeting friends, having a tapa and kicking up their heels to live flamenco music. This Feria of Malaga 2016 also brings a program loaded with activities and music, among other events, highlights concerts of from famous Spanish singers that it will be held at the Municipal Auditorium.
The evening fair is dedicated to the children starting around 8:00pm at the Cortijo de Torres (southwest of the city center). Hundreds of pavilions (caseta) offer dancing and eating to the public, hold music competitions and light up the sky with fireworks displays. Amusement park rides such as bumper cars, merry-go-rounds, haunted houses and roller coasters entice the children to stay up all night. Prices for each ride vary between 2 and 5 euros.
Know your most important events, such as the opening of the fair, which is accompanied by a fireworks display; Pilgrimage where riders, carriages and accompanying Malaga flagship of the fair to the Shrine of Victoria; Fair Centre where you can taste wines and tapas accompanied by music in the historic streets of Malaga; The Fun Fair, live entertainment, carnival parades and funfair rides open every night until the early hours of the morning.
•
Stay tuned, the programme of events will be available very soon.
• To find see similar events
click here.