Mai Fusion | San Pedro de Alcantara
by Morris Bishop
(San Pedro de Alcantara)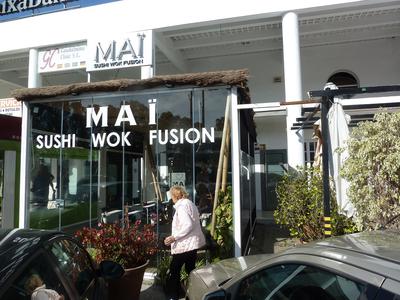 The approach to Mai Fusion
This one counts as a local to us living on the Guadalmina golf course, and with them serving Japanese, one of our favourite cuisines made it a must to try.


I really don't know why we hadn't discover it sooner because they have been open since October of last year, and is number 3 in the chain of Mai Fusion that was started in 2014 by the jovial Salim Benouna. The San Pedro restaurant has 34 covers inside and a further 12 on the covered terrace, with a black and white theme for the table settings, a Japanese mural along one wall and some 'serviette' lamp shades, the rest of the décor is bare bones.
The comprehensive menu injected with some quips of humour covers many of the sushi and Sashimi dishes that I am familiar with and some that were quite innovative, a quartet of 'Crispy' offerings, one of which 'Pizza Sushi I must try next time, 9 Nigiri sushi (strips of various raw fish atop a rice mound), 3 Fish Tartars, some Asian soups, and an octet of fusion dishes some of which sound intriguing. What we shared, was a Thai Prawn Soup, Chicken Goyza (shredded meat in a dumpling case) in a sauce made from Eels.
We followed this with Tempura Prawns and vegetables, and finally 'Exotic' Sushi (Salmon, Avocado, Cucumber, and Philadelphia wrapped in Mango) with Ginger and Wasabi. Four licked plates told the story of our delight with everything we had. Chef Abdul certainly knows how to please this customer, and we have already planned our next visit!
The V.S.
Mai can be found on Central Comercial Guadalmina, Edif. La Caixa No. 6, Guadalmina, San Pedro de Alcantara, 29678 Street parking. Our meal for two with drinks was 45€.
Their day of rest is Sunday. Open from 12:00h to 24:00h.
To see their menu www.maifusion.com. Take-away and delivery service.
Reservations on +34 952817952 or on the web site.
Bishlin Guide marks out of 5
Ambience:4
Food: 5
Menu: 5
Service: 5
Value: 5
O/A:: 4.5
Please mention to the restaurateur that the restaurant was recommended in the "MarbellaFamilyFun.com" Newsletter. To see even more reviews on the best restaurants in Marbella, check out The Bishlin Guide.