Lunch at Tutemaki, San Pedro de Alcantara, October 2017
by Morris Bishop
(San Pedro de Alcantara)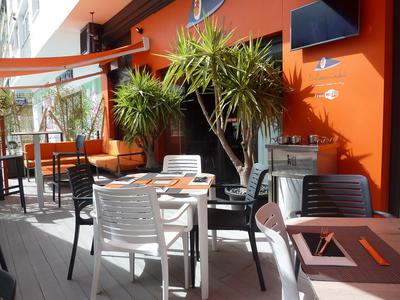 part of the decking area
It's no secret that the food from Asian is amongst our favourite cuisines, so when yet another Japanese eating house appears in San Pedro it had to go on the 'must try list'. This one however is somewhat different, and, not a little confusing as to what it really is! The restaurant is nicely appointed and comfortably furnished with some 30 covers inside and a further 30 on the front deck with a small lounge area for 5 in one corner, and using quality cutlery and crockery, a little spoilt by paper serviettes and short 'throw away' chopsticks, but never the less creating an 'inviting atmosphere. The new menu that has just been introduced replaces a more extensive array of principally, but not exclusively Japanese dishes, and is less clear and without helpful pictures as an aid to selection making this (in the opinion of this writer) a retrograde change.


One of the intriguing additions to the new menu is the introduction of Burgers made with Wagyu beef served with Furikake (Japanese seasoning) Fries, that turned out to be made from sweet potatoes, (no other detail as to accompaniments or what else is within the Bun) that had something quite sweet (tasted like Mango) and a delicious salad. This was preceded with a starter of Tempura Prawns and Tempura mixed Vegetables (although this latter was not on the menu!) All of the meal was of the highest quality and with sufficient quantity to satisfy us, the Wagyu was particularly succulent due to the fat marbling in this Beef. The old wives tail that Wagyu cattle are fed with Beer and are massaged regularly is a myth, but this is breed is becoming popular all around the world, and thus more available at a reasonable price.
Our waitress Ikran was as helpful as the new menu would allow! Chefs Rashid and Manola could stand in for a genuine Itamae (Japanese chef). The whole experience was one of discovery which will continue with our next visit When we will explore their Sushi and Sashimi dishes.
The V.S.
Tutemaki can be found near the East end of principle westerly surface road above the tunnel in San Pedro, in Avnda. Luis Braile at no. 14 local 2 and are open for Lunch and Dinner 6 days a week with Monday being their day of rest. Street parking (some free) If there is a blue band on the parking bay you must pay. Average 2 courses with wine 25€ a small carafe of hot Sake is 15€ and was in an uninsulated container and so quickly got cold!
Bishlin Guide marks out of 5
Ambience:4.5
Food:4.5
Menu:3
Service:5
Value:5
O/A:4.5
Please mention to the restaurateur that the restaurant was recommended in the "MarbellaFamilyFun.com" Newsletter. To see even more reviews on the best restaurants in Marbella, check out The Bishlin Guide.