Lunch at Taberna Miguel Estepona September 2014
by Morris Bishop
(San Pedro de Alcantara)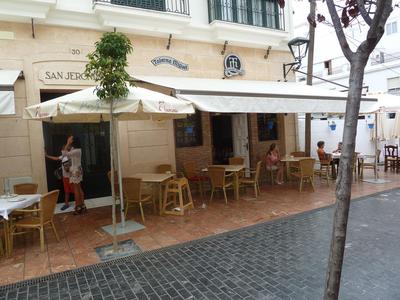 Outside Taberna Miguel
One from our party of five, suggested a visit to Taberna Miguel, and from the outset, the friendly and helpful staff made us feel at home.


The dining room appears to be an old vaulted brick ceiling with stone and block walls, complete with rough hewn oak beams. On tapping the walls it became evident that what we were looking at was an all fibreglass simulation of brickwork, wood beams. rough stones and blocks, and it was very, very, well done! Nice linen, well spaced tables, but oh dear, the seats were typically Spanish, bolt upright! But for what we were about to receive, I'll forgive them for that. Separately, there is a Tapas/Wine bar.
From the comprehensive menu, for a starter, I picked the Gazpacho, others had Seafood Croquettes, Battered Fried Aubergine in Miel de Cana, and for mains our choice was Rabo de Toro (Oxtail) In a sauce that challengers my wife's recipe, Leg of Lamb, Turbot, Suckling pig, and Lamb chops, What says it all, is that none of our party left a thing on their plates, save the bones! No apple sauce available to go with the Suckling Pig brought apologies and a promise that they will have some next time.
Helpful info
This Spanish cuisined restaurant is presided over by Miguel Perez Cordon, and you will find it in C/Carudad, that is a pedestrianised lane off Plazoleta Ortiz, which is about 400 meters from the east end of Avaneda De Espania,
Reservations on 952792538 or email tabernamiguel@icloud.com
web site in course of being built.
In the underground car park that is over a kilometre in length, if you enter from the roundabout at the east end of Avenida Espania , and park by the second pedestrian exit you will be right by Plazolea Ortiz.
Their rest day is Tuesday.
Open from 1 PM. until late
Seats 80 inside and 40 outside.
Paco, is the one English speaking waiter
Average 3 course with wine 32€
Bishlin marks out of 5
ambiance 3.5*
food 4.5
service 4.5
menu 4
value 4.5
O/A 4