Lunch at Restaurant Coriander, El Pilar April 2017
by Morris Bishop
(San Pedro de Alcantara)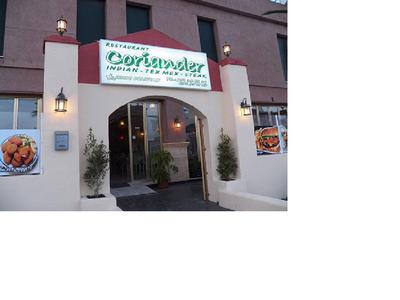 the approach to Corianda
What a strange review this is turning out to be! For our original target was the well known Indian restaurant of Aroma, and thinking that a booking for a Saturday lunch would not be necessary, we arrive unannounced at the site only find a transformation into Restaurant Coriander. On inquiring we learn that Aroma had been taken over by serial restaurateur Jaswant Singh three weeks ago to make this the third in his mini chain, and whereas the cuisine was strictly Indian, this has now been joined by Tex-Mex and a steak house, I must admit that I was in two minds as to whether to stay or cut our losses, but on looking at the menu and being told that the Aroma chef Thakur Singh was still in the kitchen, we decide to remain.


The nicely appointed Dining room has about 80 cover, and is decoratively divided up with a series of arches a bar, and a lounge area. As far as I could see there is no possibility of alfresco dinning The menu is divided into a section for each of the three cuisines, but as we came intent on a curry, we ignore the other two. Waiter, Iffi and manager Billu help us in our selection, making sure that the 'heat' will be to our liking. After complimentary Poppadum's came our starters of onion Bhaaji's and for mains we select a Mango Chicken and Lamb Rogan Josh (to a medium heat) with Pilau Rice and Peshwari Naan bread. Like almost all Indian meals there is no pretense of presentation but the service was exemplary, even to the point of asking us after our starters if we were ready for the mains. The meal was flavourful, succulent, and plentiful,. Whilst I am not a fan of the 'all things to all men' eateries this one howeve,r in the main has Spice as their reason Detra, and we are looking forward to trying more dishes from of one of our favourite cuisine.
The V.S.
Coriander can be found in Urb.Pilar, on the N340 km.168. opposite the Grand Plaza Hotel. Parking on the service road in front of the restaurant. Open for lunch and dinner 7 days. Average three coarse meal with wine 25€
7 alternative kids menu. Nearly 90 items on the Indian menu, 40 on the Tex Mex and 18 Steaks and Burgers. The other three Coriander's are in Fuengirola, Torromolinos and Benalmadena Bookings on 951388336 or 693951179
Bishlin Guide marks out of 5 for this genre.
Ambience:4.5
Food:4.5
Menu:5
Service:5
Value:5
O/A::4.5
Please mention to the restaurateur that the restaurant was recommended in the "MarbellaFamilyFun.com" Newsletter. To see even more reviews on the best restaurants in Marbella, check out The Bishlin Guide.