Lunch at Nomo San Pedro de Alcantara November 2014
by Morris Bishop
(San Pedro de Alcantara)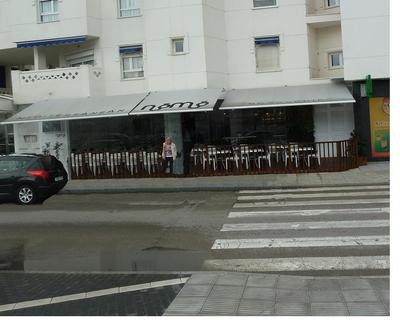 the entrance to Nomo
Open for just a few weeks, Nomo is not your ordinary run of the mill restaurant. Decorated tastefully, comfortably furnished, and equipped with a couple of working beer vats built into the wall, nice table linen, cutlery and china, it gave a good first impression.


In hind sight, I can say that size isn't everything, certainly when it comes to the menu, which consists of 5 starters, 5 mains, a veggie dish, and one special of the day. First impression seems to offer the bare minimum of choice! However, what is listed is a dozen deceptively simple plates of food, that belies the quality and culinary expertise that Catalan chef Jamie achieves.
We shared a delicious salad that had in it roast tomatoes and was dressed with an almond yogurt. For mains. I had the special, which was Osso Buco, cooked and presented in away like no other Osso Buco I had ever had before, flavourful, spicy, and topped with quenelles of Buffalo Mozzarella. Whilst DB had a Ceviche of scallops and prawns in a passion fruit salad and tiger milk (Ceviche, in case you haven't come across it before, is a freshly made raw fish or shellfish dish, marinated in Lemon juice and spices, similar to Gravlax. Originally from Spain, then Cortes and the conquistadors introduced it to Peru, and it is now back in Spain, and popular in both North and South America)
The whole meal was a delight. Oscar and his staff of Malinda and Angelica have created a pleasant dining experience that is beckoning me back.
Useful info:
Nomo is on the South East corner of the San Pedro de Alcantara, central round about
In Avd. Mediterranio
Reservations on 951702168 or nomosanpedro@gmail.com
Seats about 30 with a further 20 outside and 12 on high stools at the bar, incidentally they have a separate, Snacky bar menu there.
From Monday to Thursday they have a lunch Menu del dia.
They open for Lunch & dinner.
Their rest day is Sunday.
Average 3 course with wine, and tip 42€.
Street parking plus under Avda. Marques del Duero (north of the round about).
No website that I can find.
Bishlin marks out of 5
Ambience 4
Menu 3
Service 4
Food 4.5
Value 4 O/A 4