Lunch at Lucia Fuengirola September 2014
by Morris Bishop
(San Pedro de Alcantara)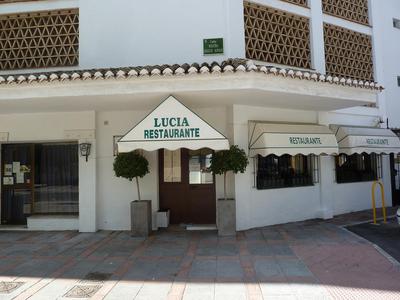 Restaurante Lucia
Lucia's is a Scandinavian restaurant approaching the silver anniversary of their opening. Norwegian Lena, and Anders, who hails from Denmark, founded this eatery in 1990 to meet the increasing demand for this unique cuisine, not only from their own compatriots, but also diners from around the world. It was purely by accident that we found ourselves dining at Lucia's, whilst attending a meeting of AIA group (Andalusia International Artists) to see if they could help promote the sculptures that my much better half creates.


Inevitable after the meeting, we joined them for lunch, and I was sufficiently impressed with the food that I have written this review.
Thankfully the Menu was in English as well as Danish so we could get an understanding of what each of the 25 Smørrebrød were made of. Incidentally, the more familiar Smorgasbord is the Swedish equivalent, and what they both mean is, a luncheon or supper buffet offering a variety of foods and dishes like hors d'oeuvres, hot and cold meats, smoked and pickled fish, cheeses, salads, and relishes usually served on a Rye bread. There are many more conventional starters, and meat & fish mains, from which I choose a Tenderloin Beef in a truly spectacular mushroom sauce. Chef Garry certainly knows how to pack a flavour punch. All the other dishes were nicely presented and devoured with relish (no pun intended)
The stats
Lucia is in Calle Maestra Angeles Aspiazu, 10, Fuengirola,
Bookings phone 952582738
Seats 40 inside and 45 on the terrace overlooking the gardens of Pueblla Lucia.
Street parking.
Open for lunch and dinner, closed Sundays.
Bishlin Guide out of 5:
ambience 3
food 4
service 3.5
menu 3.5
value 4
O/A 3.5
To see more works of AIA group members go to www.aia-artgroup.com
To see 3D works by Dizzy Bishop go to www.dizzybart.com