Lunch at Lola's Tapas Bar, El Pilar, Estepona. October 2017
by morris Bishop
(San Pedro de Alcantara)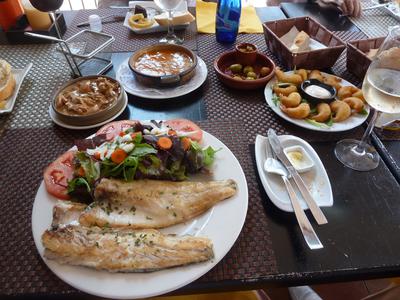 tapas and my Sea Bass
We are invited to join some Spanish friends for lunch at a typical Spanish Tapas bar and are greeted by a jovial waiter Mauri to whom we explain that I have an intolerance to anything cooked in Olive oil, and he said that everything here is cooked in Olive oil! After consulting with owner Lola and chef Concha, they produce a bottle of Girasol (sunflower oil) and say that they will cook anything I order in this, no Fuss no bother. Mean time our host orders a Tapas spread of Prawn Pil Pil, Black pudding, battered Onion rings, Chicken with mushroom, Potato Croquettes, marinated Tomatoes, and battered prawns, As the starter elements of these arrive at the table a specially prepared delicious prawn dish for me was rustled up, and as more Tapas arrived, a Sea Bass a la plancha with a mixed salad is set before me. The meal ended with two plates of mixed desserts. The empty plates bear witness to our enjoyment of the meal. This was all done with attention, and with good grace, and I very much appreciated that.


The eclectic dining room with something like 30 clocks spread around this and the bar area that seats in total about 40 with a further 60 covers on the pleasant terrace. OK this is a Tapas bar with basic table setting, paper serviettes, nice crockery and cutlery, but these fade into insignificance because of the owner and her staff who sought to please, and they certainly succeeded for this dinner.
The V.S.
Lola's can be found in Centro Commercial El Pilar, No 3, On the N340 approach from the east (towards Estepona) and at km 168, when you see the Senator Banus Spa Hotel on the left, take the exit and immediately turn right and at the next junction turn left, the restaurant is 50 m. on the left Parking in the surrounding service roads. They open for lunch and dinner, with Sunday being their day of rest. Average 3 course meal with wine 25€. There is a website where you can view the menu on which they have chef's recommendations and see those dishes that are spicy
Reservations on 952885331
Bishlin Guide marks out of 5
Ambience:3.5
Food:4.5
Menu:4.5
Service5:
Value5:
O/A:4.5
Please mention to the restaurateur that the restaurant was recommended in the "MarbellaFamilyFun.com" Newsletter. To see even more reviews on the best restaurants in Marbella, check out The Bishlin Guide.