Lunch at La Sidreria San Pedro de Alcantara February 2015
by Morris Bishop
(San Pedro de Alcantara)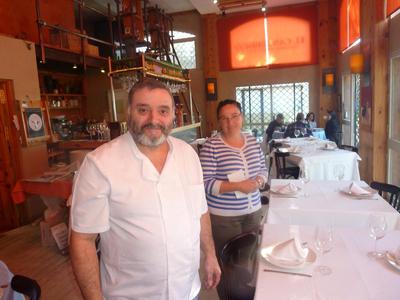 Emilio & Ade
We had been living in a fools paradise with lovely sunny days more akin to Spring than winter, but at the end of January we are pulled up with a jolt into normality of Gales and rain. We had recently discovered (but not tried) a restaurant that specializes in cuisine from Asturia (North western Spain) So off we go to


El Sidreria (The Cider Bar) which Is a few meters up the main drag in San Pedro de Alcantara, literally overlooking the new Boulevard.
We are immediately impressed with the warm welcome of Emilio the chef-patron and his wife Ade, The restaurant walls are covered with all sorts of produce from the region and they make good use of scaffold tubes to create much of their storage and bar area, and I have never seen ceiling lights made from wooden Pallets before!
Their menu features many Asturian dishes as well as the more regular Spanish Cuisine, and having battled our way through a chilly gale to get there, we both opted for a starter of soup to warm us up, wifey had the fish, and for me the Tomato , up comes a piping hot tureen, enough to feed a small army, teeming with seafood, and the flavor of my tomato was exceptional (although I prefer it somewhat thicker) For mains I chose a veal entrecote cooked and served on a very thick earthenware dish that remained hot for the whole meal, with the flavor and texture being one of the best ever. Mrs B's Goat kid chops (a new experience) were delicious. We shared a piece of Almond flan for dessert
That we are already planning our next visit says it all!
The VS
El Sidraria is in Paseode Palmaros which is the pedestrian path on the west side of Marques del Duero
they open for lunch and dinner every day except Thursday
Reservations on 622264081 and 622009493 or email ade_ade_@hotmail.com
Street parking or underground immediately outside. They have 26 covers inside and 28 outside. The menu del day is 10€, and they have an extensive Tapas menu.
Bishline marks out of 5
Ambience 3.5
Food 4.5
Menu 4..5
Service 4.5
Value 4 O/A 4